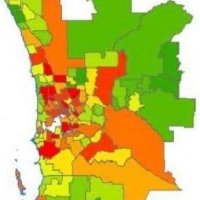 Thursday, 4 February 2016
An environmental engineering expert at The University of Western Australia said 'greening' the suburbs of Perth will help reduce the emerging urban health crisis of heatwaves.
UWA's Professor of Environmental Engineering Anas Ghadouani is Executive Director of the $120 million Cooperative Research Centre for Water Sensitive Cities (CRCWSC), a national research centre funded by the Australian Government and industry to help transform water management across Australia.

He said water plays a key role in making cities and towns more liveable, particularly during times of soaring temperatures.

"There is strong evidence that a green, leafy park, tree-lined street or urban waterway could drop the local temperatures by several degrees," Professor Ghadouani said.

"This cooling is extremely important for reducing heat-related deaths, particularly during the very hot days of the year, which we're seeing more often and for longer periods nowadays.

"Water is crucially important in this because just as households and industries depend on it, so does the vegetation in our cities."

Professor Ghadouani says that while the Bureau of Meteorology may show a reading of 40C in some locations, people could feel temperatures of up to 50C, particularly if there is no green infrastructure in that suburb.

He said research showed that Perth's most vulnerable 'hotspots' include the suburbs of Bentley, City of Canning, Woodvale, Kingsley, Booragoon, Como, Hamilton Hill, Coolbellup, and Stirling. More detailed information about your suburb's heat vulnerability can be found here.

Professor Ghadouani said the CRCWSC is identifying novel solutions to keep our cities green using new water sources and efficient water usage.
Map above shows the hottest locations across Perth in red, the locations of moderate heat in yellow and the coolest locations in dark green
Media references
Professor Anas Ghadouani (UWA Faculty of Engineering, Computing and Mathematics) (+61 8) 6488 2687
David Stacey (UWA Media and Public Relations Manager) (+61 8) 6488 3229 / (+61 4) 32 637 716
Tags
Channels

Media Statements — Research — Science — University News

Groups

Civil, Environmental and Mining Engineering — Faculty of Engineering and Mathematical Sciences — Faculty of Health and Medical Sciences — School of Anatomy, Physiology and Human Biology — School of Biological Sciences — School of Computer Science and Software Engineering — School of Earth and Environment — School of Electrical, Electronic & Computer Engineering — School of Indigenous Studies — School of Mechanical and Chemical Engineering — School of Medicine and Pharmacology — School of Molecular Sciences — School of Physics — School of Population Health — School of Primary, Aboriginal and Rural Health Care — School of Social Science — School of Sport Science, Exercise and Health — Science Matters — UWA School of Agriculture and Environment