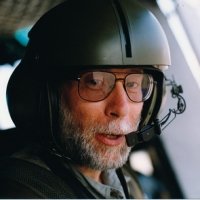 Friday, 22 January 2016
While Jordan's UNESCO World Heritage site of Petra, carved out of rose-coloured rock, still survives, UWA archaeologist David Kennedy fears for a region that has seen too many archaeological treasures destroyed by ISIS. Late last year, the UWA archaeologist returned (as he does each year) to fly over Jordan, documenting its mysterious ancient stone structures, at the invitation of the kingdom.
While viewing the archaeological remnants of long-gone empires from the air, Professor David Kennedy is always struck by the relative calm of the Hashemite Kingdom of Jordan, given its geopolitical location.
Bordered by Saudi Arabia, Iraq, Syria, Israel and Palestine, Jordan is registering the shock waves of millions of refugees on the move, yet the nation described as part of the 'cradle of civilisation' still welcomes archaeologists such as Professor Kennedy (UWA Classics and Ancient History) who record and unravel the mysteries still clinging to giant stone circles and wheel-shaped structures dating from prehistory.
Professor Kennedy was lured by a region settled by Semitic peoples in antiquity, conquered by Babylonians and Persians, Alexander the Great's Macedonians and Rome's legions and by the armies of Islam, the Mongols, Crusaders and Ottoman Turks. The Ottoman Empire crumbled after World War I, thanks to Hashemite rebels led by the great grandfather of Jordan's current king, the Great Arab Revolt and the derring-do of the legendary T E Lawrence, who fell in love with the desert and its fiercely-independent tribes.
All this is irresistible to the British-born researcher whose father flew over these deserts before World War II. RAF pilots pioneered flights over Jordan in the 1920s without navigation aids — and were the first to identify the intriguing circles of stone that Professor Kennedy studies in one region.
The Oxford-educated academic specialises in the Near East and aerial archaeology. He established the Aerial Photographic Archive for Archaeology in the Middle East (APAAME) in 1978, has jointly directed the Aerial Archaeology in Jordan (AAJ) project since 1997 and is now a co-director (with Oxford colleagues Bob Bewley and Andrew Wilson) of the urgently needed Endangered Archaeology in the Middle East and North Africa (EAMENA) project.
Despite regional tensions, Jordan's Prince Feisal (King Abdullah's brother) again approved flights across the kingdom last month. Also supporting his collaborative research is the US Packard Humanities Institute that has provided annual grants (this year US $250,000) since 2008 and now a generous donation of £50,000 from Baron Lorne Thyssen-Bornemisza.
The aerial photography program along with satellite imagery from Google Earth is leading to many new discoveries. "As soon as you get up a few hundred feet, it all comes into focus. You can suddenly see the shape of what you've been looking at," he told Google's Search Stories series in a YouTube video.
At UWA, Professor Kennedy and his Research Assistants – most notably Rebecca Banks (now employed on EAMENA at Oxford) – recorded thousands of archaeological structures in Jordan and the broader Middle East. Shapes range from giant circles of stone that may be 400 metres across to wheel-shaped structures with radiating spokes, kites and pendants. The EAMENA team is working to record a heritage long endangered by development and now in the firing line of civil and foreign wars and the victim of looters.
Professor Kennedy is a Fellow of the Society of Antiquaries, the Australian Academy of the Humanities and the Royal Geographic Society.  He has twice been elected to Membership of The Institute for Advanced Study at Princeton, twice held a Seeger Fellowship at Princeton University and been a Visiting Fellow at Oxford's Brasenose College.  He is co-author/editor of twelve books including Ancient Jordan from the Air and of the Apple iBooks online publication (with R. Banks and P. Houghton) Kites in 'Arabia'.
You can learn more by visiting the Aerial Photographic Archive for Archaeology in the Middle East: https://www.apaame.org/ and Endangered Archaeology in the Middle East and North Africa https://eamena.arch.ox.ac.uk/
Tags
Groups

UWA Forward