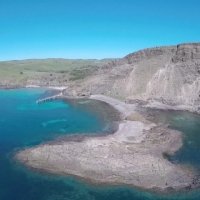 Friday, 15 January 2016
Marine biologists from the University of Western Australia's Oceans Institute have released a video that gives a poignant glimpse into the marvels of the little-known, economic powerhouse: The Great Southern Reef (GSR).
The GSR made headlines recently when UWA's Dr Scott Bennett and Associate Professor Thomas Wernberg put a dollar value on Australia's 'other reef', finding it contributes more than $10 billion to the Australian economy each year.
'While everyone had heard of the Great Barrier Reef, its lesser-known southern counterpart was equally unique, beautiful and a biological powerhouse,' they said.
The newly released video showcases footage from research carried out by a UWA-led team of scientists across southern Australia that was published in CSIRO's international journal Marine and Freshwater Research and The Conversation .
"Although most Australians live and play around the southern reef they have little awareness of its magnitude, value and significance, and too few resources are allocated to understanding it," Dr Bennett said.
The Great Southern Reef covers 71,000sqkm and straddles five states across the southern coastline of the Australian continent, running from Brisbane to Perth. Its kelp forests, containing unique and diverse marine life, are globally recognised.
"We're hopeful that this video will shine a light on the incredible biodiversity and rich beauty found along our southern coastline - that this will in turn lead to a bigger push for discovery and research," Professor Wernberg said.
The reef is a global biodiversity hotspot for seaweeds, sponges, crustaceans, chordates, bryozoans, echinoderms and molluscs, where as much as 30 to 80 per cent of the species cannot be found elsewhere.
In terms of its health and longevity, Associate Professor Wernberg said the significant natural resource was relatively healthy and well-managed compared to reefs elsewhere in the world but warned it was under growing pressure from climate change, population growth and urban development.
"Ensuring that Australia's temperate reefs continue to support and deliver valuable services into the future will require a strong knowledge base and the public and political will to look after the system," he said.
"It will need a commitment that reflects the immense ecological, social and economic benefits that we derive from the Great Southern Reef.  Few of us realise the magnitude and value of this gem that is right at our doorstep."
Media references
David Stacey (UWA Media and Public Relations Manager)           (+61 8) 6488 3229 / (+61 0) 432 637 716
Associate Professor Thomas Wernberg (UWA Oceans Institute)    (+61 8) 6488 7204 / (+61 0) 428 730 044
Dr Scott Bennett (UWA Oceans Institute)                                             (+61 0) 400 434 898
Tags
Channels

Media Statements — Research — University News

Groups

Oceans Institute