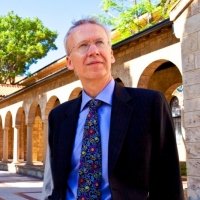 Monday, 7 December 2015
I, like I am sure each of you, was disturbed to learn of news over the weekend that a pig's head was found in the bathroom of University's Muslim Prayer Room. One of our PhD students made the discovery as he was preparing for his regular prayers on Sunday.

The incident was immediately reported to police by university security staff. We are continuing to work closely with them as part of their investigations into the matter.
I am saddened by this deplorable act and it is concerning that people using the Muslim Prayer Room have been targeted this way. This does not represent the values of racial harmony and cultural diversity that this University embraces.
Last night I contacted the UWA Muslim Students' Association to offer my support to the Muslim community and to restate that UWA is a culturally inclusive and tolerant campus community.
Sincerely

Paul Johnson
Vice-Chancellor
Tags
Channels

Media Statements — University News