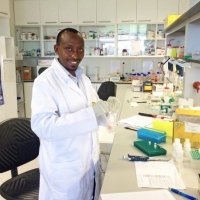 Thursday, 26 November 2015
A Rwandan Biosecurity Fellow's visit to The University of Western Australia will help bring much-needed skills to African scientists trying to fight insect plagues threatening Africa's food security.
Mr James Mushayija, a plant quarantine specialist from Rwanda, is in Australia being trained by biosecurity expert and TED Fellow Dr Laura Boykin.

Dr Boykin's research at UWA's School of Chemistry and Biochemistry and the ARC Centre of Excellence in Plant Energy Biology has the potential to end African crop plagues spread by the Cassava Whitefly.

Whitefly plagues can destroy entire cassava crops that millions of East African farmers and their families rely on as a primary food source, causing widespread economic hardship and famine.

Mr Mushayija is one of 15 African Plant Biosecurity Senior Fellows visiting Australia for three weeks under the Plant Biosecurity Cooperative Research Centre's Australia-Africa Plant Biosecurity Partnership (AAPBP).

The Partnership is an Australian Government initiative aimed at strengthening the plant biosecurity capacity of Sub-Saharan African countries through expertise at Australian host organisations.

Mr Mushayija said the skills he learns at UWA will be invaluable to Rwanda, and to East Africa.

"So many African people are in desperate need because of the destruction the whitefly causes," Mr Mushayija said.

"Being able to win this fight means these people will have enough to eat, better economic prospects and more opportunities for their children."

He said Australia is an ideal location to study biosecurity, providing visiting Fellows with skills not currently established in Africa.

While in Australia the Fellows will train under some of the world's leading experts which Mr Mushayija hopes will improve Rwanda's biosecurity capacity with practical diagnostic methods based on the cutting-edge principles and techniques for the analysis of pests and diseases.

"Our farmers are the backbone of our economy and our society and have so much potential and I am very happy that UWA and the Australians are helping to make us stronger," Mr Mushayija said.

The AAPBP presents an opportunity for Fellows to network and share the knowledge and skills gained through the Partnership. The Fellows will 'pay it forward' by teaching the skills they learn to others in their country and elsewhere in Africa, potentially creating many more experts in their specific fields.

While at UWA Mr Mushayija is gaining skills in molecular diagnostics and analysis for the identification of pests, which he will use to train a team of researchers in Rwanda.

The capacity to identify new species of whitefly will mean that distribution of cassava seeds resistant to the correct species of whitefly throughout areas of East Africa can be ensured. Diagnostic techniques will allow early identification and reporting of pests of concern by African farmers, with methods being transferable to different pest insects, thus helping to improve food security in East Africa on an ongoing basis.

Mr Mushayija will return to Rwanda in early December and looks forward to putting into practice what he has learnt through his research at UWA and in Australia.
Media references
David Stacey (UWA Media and Public Relations Manager) (+61 8) 6488 3229 / (+61 4) 32 637 716
Laura Boykin (Research Fellow, UWA School of Chemistry and Biochemistry, ARC CoE in Plant Energy Biology) (+61 8) 6488 4488
James Mushayija (Plant Biosecurity Senior Fellow, PBCRC AAPBP) (+61 4) 484 926 203
Tags
Channels

International — Media Statements — Research — Science

Groups

School of Earth and Environment — School of Molecular Sciences — UWA Institute of Agriculture — UWA School of Agriculture and Environment