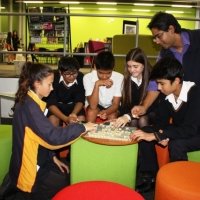 Friday, 30 October 2015
Some of the brightest young minds from around the world will converge on The University of Western Australia this weekend when it hosts the World Youth Scrabble Championship for the first time.

The three-day event kicks off tomorrow (Saturday 31 October) with 16 Australians, including nine from WA, testing their language skills against the world's best.
Hosted by UWA in the Bayliss Building with its Penrose tiled floors, words like otarine, reduviid, kopje, qintar and many others will fly across the boards as the challengers match up.
Western Australia leads the Australian charge with three of the top five ranked national youth players and more than half the team hailing from the West including six from Perth Modern School.
The WA contingent includes Tim Mason and Rahul Jegatheva both of whom have represented Australia in past world championships, along with Radheya Jegatheva, Liana Aho, Aditya Bose-Mandal, Koko Bhowmick, Sharvin Jeyendran, Pieta Sparrow and Ben Creighton.
Youth chairperson of the World English Language Scrabble Players Association, Karen Richards, who runs the competition, said this year was the 10th World Youth Scrabble Championship.
"It's great to be returning to the country where it all started.  In 2006, we had only 50 players, and half the number of countries competing," Ms Richards said.
"The standard of play has improved tremendously since then and the 2015 championship will be very tough, with four of the top seven from 2014 returning to stake their claims on the top spots.
"Countries that have already fielded a World Youth Champion include Singapore, Thailand, Pakistan, Malaysia, UK and Australia but perhaps this year's winner will come from a new country.
"Three-time world champion and the highest-rated scrabble player in history, New Zealander Nigel Richards will present awards on Monday to the best young players together with UWA Vice-Chancellor Professor Paul Johnson.
Media references
David Stacey (UWA Media and Public Relations Manager) (+61 8) 6488 3229 / (+61 4) 32 637 716
Jay Jay Jegatheva (UWA School of Physics)                                              (+61 4) 17 180 564
Tags
Channels

Events — Media Statements — University News

Groups

School of Physics — Teacher's Prospects