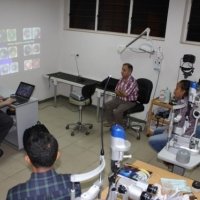 Friday, 25 September 2015
Professor David Mackey has spent a week training local doctors in Timor Leste in an effort to improve eye health services and reduce the burden of preventable eye disease.
Professor Mackey, Managing Director of the Lions Eye Institute and Chair of UWA Ophthalmology, said it was a challenge to provide basic eye health care in the developing nation.
"Timor had a huge shortage of doctors and after Timorese independence, the Cuban government offered to train 1000 Timorese students," he said.
"These doctors have returned to Timor and along with local graduates now need advanced training so that some can fill specialty roles such as ophthalmology.
"Timor currently has six local junior doctors training in a Diploma of Ophthalmology course in Dili."
Regional neighbours have enjoyed a close relationship with Timor, strengthening eye health services on the ground through the Timor Eye Program, led by Dr Nitin Verma from Hobart, and support from the Fred Hollows Foundation New Zealand in building the National Eye Centre on the campus of the main hospital in Dili.
In Timor, there has also been a coordinated outreach program including Western Australian ophthalmologists Ross Littlewood and UWA Adjunct Associate Professor Phil House. The aim is that local doctors will be trained to provide these outreach services.
"In most developing countries the major burden of blindness is from adult cataracts," Professor Mackey said.
"Globally there are many successful cataract programs that have improved the lives of millions. While individuals living in cities can access hospitals, people living in remote areas have greater challenges getting treatment.
"However, ophthalmology is much more than cataract surgery. With 50 per cent of the Timorese population under the age of 18 years, there is a major need to train local doctors to provide paediatric ophthalmology and implement vital public health strategies. This is why I was invited to visit Timor."
Professor Mackey said Timorese children were still afflicted with eye diseases which have largely been eradicated in Australia including ophthalmia neonatorum – an infection acquired at birth which is treatable if detected early – congenital rubella infection and retinopathy of prematurity.
In addition to these, there are children with congenital cataract, congenital glaucoma, retinoblastoma and many other genetic eye diseases.
"Given the number of blind children in Timor Leste, we also need to help build the local support services for children with visual impairment," Professor Mackey said.
"Although low vision aids and many adaptive computer technologies are available in countries like Australia, these are not available for poor families in developing countries such as Timor Leste."
Professor Mackey said a major aspect of his teaching in Timor was educating local students about the need for continuing medical education beyond their basic ophthalmology training.
"Timor has a promising future and we hope that in coming years the trainees will spend some time in Australia learning some sub-specialty areas of ophthalmology," he said.
"In the interim we will need many Australian eye care providers to continue visiting East Timor for teaching and service provision."
Tags
Groups

UWA Forward