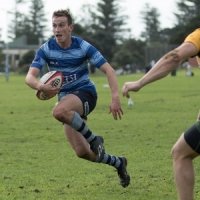 Monday, 21 September 2015
Get to know this year's Team UWA UniGames rugby captain, Rory Edwards (22), who is currently studying his Masters of professional engineering.
Name: Rory Edwards
Age: 22
Sport: Rugby Union 7s
Degree/area of study: Master of Professional Engineering (Mechanical)
Q. What position do you play?
A. Halfback, Flyhalf, Fullback
Q. At what age did you start playing rugby, and how did you get involved?
A. I started playing at age 12 after immigrating to Australia from the US. My family is Australian and Dad is a massive rugby fan so he was keen to get me involved as soon as we arrived. I played for Associates juniors and now I play at Cottesloe Rugby Club.
Q. What do you like most about rugby?
A. The physical aspect of the game. I also like how rugby has roles and positions that require different skill sets and physical builds – it gives opportunities to players who may not be as naturally athletic as others.
Q. What has been your worst injury, and how did you get it?
A. I have never actually sustained a serious injury, only concussions and broken fingers!
Q. Why did you want to be captain of the UWA rugby team at UniGames this year?
A. A good friend of mine, Jack Ellis, was Team UWA captain and captain of the UWA touch team last year. I got a bit of insight from speaking to him and it looked like a challenge, so I figured I would give it a crack.
Q. What do you think is the most important thing about being a captain?
A. I think being a leader for your team is important if you want to succeed on the field. Off the field being organised and prepared is a necessity.
Q. What is something your team likes or dislikes about you as?
A. I guess a dislike would be that I post on Facebook every week asking for money!
Q. Have you and your team done any team building or bonding things leading up to UniGames?
A. We've put together a few training sessions, which has been good for the boys to get their head around 7s as most of us come from 15s. Hopefully this will give us an advantage come game time at the Gold Coast.
Q. Tell us the best experience you've had as captain of your team?
A. Taking the trainings has been good fun when we have the numbers.
Q. Worst experience you had as captain of your team?
A. When no one rocks up to training!
Q. Is this your first UniGames? If not, how many have you been to?
A. This is my third UniGames. In 2013 and 2014 I represented UWA touch on the Gold Coast and in Sydney respectively.
Q. Which UniGames were your favourite? Why?
A. I'd have to say Sydney - mainly because we had a great group of players. We have all known each other for a long time so it made the last UniGames together particularly memorable.
Q. What is the best thing about going to UniGames?
A. The vibe during the whole week is very unique. It's relaxed and fun. On field usually the games are played in great spirit, which makes the whole experience more enjoyable.
Q. Do you have any rituals/superstitions while playing?
A. Personally I don't, but I have mates that do. I just try and get out there and play – I don't think rituals make a difference.
Q. What do you usually do before games?
A. We will try and have a warm-up, which is consistent so we are prepared for each game. A team huddle before we run on to get the boys firing doesn't hurt either.
Q. What do you think your team's chances are at UniGames this year?
A. We're a fresh team so we are still working on combinations – hopefully we can go for the gold though! The 7s team from 2013 got close and we're hoping to match their effort.
Q. Who is your team's biggest rival and why?
A. I don't think anyone in our team has represented UWA in 7s for UniGames before. With that being said I know that University of Sydney will be the team to beat and I have a couple of mates who will be playing for them so I guess that makes them a good candidate for biggest rivals.
Q. What's your team's secret weapon for UniGames (eg a certain player, set manoeuvre, your lineout/scrum)?
A. Clay Uyen, the man is unstoppable! Jackson Howson has also been showing some fancy footwork at training. There's also been rumours circulating that Jonathan Hollander has been on a strict shredding routine in preparation for UniGames so we will see if it pays off.
Media references
Nicole West (Marketing and Communications Officer, UWA Sport Pty Ltd) +61 6488 4309
Tags
Groups

UWA Sport