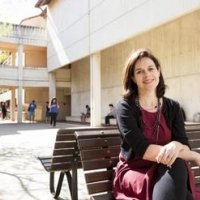 Friday, 18 September 2015
Kate Offer loves teaching Law. More than that, she loves to experiment with how she teaches Law. The Assistant Professor's passion – and experiments – will be recognised later this month with a Citation for Outstanding Contributions to Student Learning from the Federal Education Department's Office of Teaching and Learning.
Kate could not be more delighted with the award, which recognises those who have made a significant contribution to the quality of student learning over a sustained period.
"It's really nice," she said. "The people I know who have gotten this award in the past are people I really admire. It's a pretty good feeling to be up there with them."
"Kate has consistently shown commitment, enthusiasm and a passion for highly effective innovation to increase student engagement," said Erika Techera, Dean of UWA Law School. "She's constantly exploring novel ideas and new opportunities to engage students and enhance their learning experience."
Every year Kate sets herself a challenge to do at least one 'big' experiment to improve how she influences, motivates and inspires her students.
For example, in 2013, Kate wanted to demonstrate the inherent unreliability of eye-witness accounts for her Semester 2 Evidence unit, so she staged a live demonstration of a 'crime' at the beginning of a lecture.
Mitch Tatum, at the time the President of Blackstone (the UWA Law Students' Society), was in on the experiment and started the lecture with a short announcement about the Law Ball. Suddenly, he was accosted by four engineering students who, with much ruckus, dragged him outside.
"I'm a torts lawyer, so I knew it couldn't look too real," recalled Kate, laughing. "I didn't want anyone to call triple-0, so we deliberately made it a bit cartoonish. But I remember thinking at the time those engineers were a bit errr ... enthusiastic when they bundled Mitch out."
With Mitch 'abducted', Kate then put up a slide asking the students to act as eye-witnesses and identify Mitch's 'assailants'.
"It was a great way to illustrate the unreliability of eye-witnesses. I asked questions about the offenders' hair colour, their height, what they were wearing, what they did, if they spoke… The range of the responses really hammered the point home," said Kate.
Kate will be awarded her citation at a ceremony at Fraser's in Kings Park later this month.
"I'd really love to acknowledge the contribution of Professor Sally Sandover to my submission for the citation," she said. "Sally was so, so helpful in crafting this submission into shape. I owe her a huge debt of gratitude."
---
Tags
Channels

Awards and Prizes

Groups

Law — UWA Forward