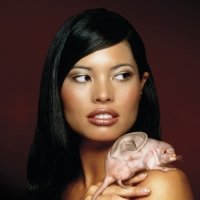 Tuesday, 15 September 2015
In October 1995 the BBC science program Tomorrow's World aired striking footage of a mouse with a human ear growing on its back. This vilified and celebrated living object became one of the defining images of the late 20th century and a symbol of our increasing capacity to shape and alter living bodies.
A new exhibition, DeMonstrable , which opens on Friday 2 October at UWA's Lawrence Wilson Art Gallery, will commemorate and reflect on the cultural and scientific impact of the "earmouse".
Curated by SymbioticA director and internationally renowned biological artist Oron Catts, with the help of Dr Jennifer Johung and Dr Elizabeth Stephens, DeMonstrable is a confronting and challenging exhibition that examines the purpose, ethics and aesthetics behind biological modification.
Mr Catts said even 20 years later, those who saw the earmouse for the first time had a distinct reaction to it.
"With DeMonstrable we want to look at where those reactions are coming from, and what that means for biological science and our relationship with the body," he said.
"During the exhibition we will present work from the time of the earmouse to the latest experimental artwork. The work has been created by artists of significant international standing, combined with scientific objects of historical significance, which draw attention to their creators' use of aesthetic tactics."
Mr Catts, who co-founded SymbioticA in 2000, said the exhibition provided an opportunity for people to engage with the increasingly sophisticated manipulation of life, without having to immediately choose a side.
" DeMonstrable isn't about celebrating or condemning biological manipulation," he said.
"Art is one of the few remaining places where we can approach these issues with a level of ambiguity, where we can engage with a spectrum of ideas and emotions.
"One of the great ironies of the whole earmouse story is that people expected this to herald a new era of lab-grown organs delivered on demand.
"The reality is that, in this sense at least, the earmouse still didn't deliver – the cartilage couldn't support the ear form and it collapsed soon after. But it did challenge our idea about how much we can sculpt living beings."
The exhibition will include:


Work by prominent Australian artist Patricia Piccinini, whose human-animal hybrids and Skywhale have earned her international acclaim.


A living sculpture by exhibition curator Oron Catts and designer Robert Foster. This artificial life support system will carry living cow and mouse cells that will live, grow and die over the course of the exhibition.


A video work by artist Beatriz de Costa, where she visits lab mice that have been implanted with the same cancer she was fighting and which eventually took her life. This will be accompanied by a very different workon cancer by Chinese artist Lu Yang.
DeMonstrable is presented by SymbioticA and the Lawrence Wilson Art Gallery with the assistance of the Australia Council for the Arts and the Western Australian Department of Culture and the Arts.
Paola Antonelli, Senior Curator at New York's Museum of Modern Art will open the exhibition on Friday 2 October at 6pm. It runs from 3 October to 5 December 2015.
Media references
John McCarten (UWA Cultural Precinct)                                                                                        (+61 4) 03 900 193
Jess Reid (UWA Media and Public Relations)                                                                                  (+61 8) 6488 6876
Tags
Channels

Arts and Culture — Events — Media Statements — University News