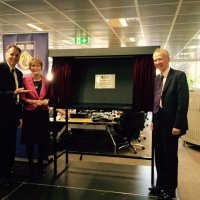 Wednesday, 9 September 2015
Ten years after Professor Barry Marshall's Nobel Prize, The University of Western Australia has renamed its Science Library in his honour. Professor Marshall and his colleague Dr Robin Warren won the 2005 Nobel Prize in Physiology or Medicine for their discovery of the bacterium H.pylori and its role in gastritis and peptic ulcer disease. Professor Marshall is remembered in particular for acting as a human guinea pig and swallowing a concoction containing H.pylori to prove his research.

As a result of his collaboration with Dr Warren, most ulcers can now be cured with antibiotics and incidence of gastric cancer has been significantly reduced. Their research made them Australia's ninth and 10th Nobel Prize winners.

At a dedication ceremony for the Barry J Marshall Library at UWA, attended by the Governor of Western Australia Her Excellency the Honourable Kerry Sanderson, Professor Marshall said he was thrilled to have such a significant building named after him.

"I'm overwhelmed to think that whole generations of students and researchers coming to read and work in this place of knowledge will see my name above the door," he said. "It is certainly something that I never in my wildest dreams expected."

UWA Vice-Chancellor Professor Paul Johnson said the tribute was well deserved, with Professor Marshall the University's only graduate to have achieved a Nobel Prize.

"Professor Barry Marshall has brought extraordinary honour to UWA and to the State of Western Australia and the country with his unflinching dedication to research, which has resulted in one of the highest public honours that one could hope to achieve," Professor Johnson said. "The University is delighted to be able to recognise our very own medical pioneer whose work has made a difference to the lives of millions of people around the world."

The Nobel Prize is an international award for significant achievements and research, that benefits mankind. Australia has produced 15 Nobel Laureates, which is the highest number per head of population of any country.

Professor Marshall has received many awards for his work on Helicobacter pylori and in 2007 he was named Western Australian of the Year and received Australia's highest civilian honour, the Companion of the Order of Australia (AC).
Media references
David Stacey (UWA Media and Public Relations Manager) (+61 8) 6488 3229 / (+61 4) 32 637 716
Tags
Channels

Arts and Culture — Media Statements — Research — Science — University News

Groups

Science Matters — University Library