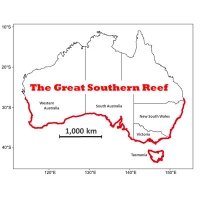 Monday, 17 August 2015
For the first time scientists have put a dollar value on Australia's little talked about 'other reef', the Great Southern Reef, finding it contributes more than $10 billion to the Australian economy each year.
Marine biologists Dr Scott Bennett and Associate Professor Thomas Wernberg, from The University of Western Australia's Oceans Institute and School of Plant Biology, said while everyone had heard of the Great Barrier Reef, its lesser known southern counterpart was equally unique, beautiful and a biological powerhouse.
"Although most Australians live and play around the southern reef they have little awareness of its magnitude, value and significance, and too few resources are allocated to understanding it," Dr Bennett said.
He said the paradox was revealed by new research carried out by a UWA-led team of scientists across southern Australia that would be published this week in CSIRO's international journal Marine and Freshwater Research and The Conversation .
The Great Southern Reef covers 71,000sqkm and straddles five states across the southern coastline of the Australian continent, running from Brisbane to Perth. Its kelp forests, containing unique and diverse marine life, are globally recognised.
"Australia's southern coastline is fringed by rocky reefs dominated by kelp forests, which are highly productive and structurally complex communities of large brown seaweeds," Associate Professor Wernberg said.
"These kelp forests are the biological engine of the southern reef, producing as much as 65 tonnes of biomass per hectare per year, more than 16 times the yield from Australia's most fertile wheat fields".
"They provide both a habitat and a rich food source in our coastal ecosystems, critical for the energy and nutrient cycles supporting the rich marine life of the reef and the wider ocean beyond shelf waters."
The reef is a global biodiversity hotspot for seaweeds, sponges, crustaceans, chordates, bryozoans, echinoderms and molluscs, where as much as 30 to 80 per cent of the species cannot be found elsewhere.
"Due to its sheer scale and close proximity to almost 70 per cent of the Australian population, the reef forms an integral part of Australian culture and society, that has long been taken for granted," Dr Bennett said. "It plays an important role in our national economy, supporting a broad range of tourism, recreational and commercial activities."
The research found that in regional coastal communities along the Great Southern Reef, total tourism expenditure including significant reef-related tourism such as fishing, scuba diving, surfing and whale watching, is estimated at around $9.8 billion per year.
In areas such as Victoria's Phillip Island, the Tasmanian west coast and South Australia's Kangaroo Island, it contributes 15 per cent to the total local economy.
In terms of its health and longevity, Associate Professor Wernberg said the significant natural resource was relatively healthy and well-managed compared to reefs elsewhere in the world but warned it was under growing pressure from climate change, population growth and urban development.
"Ensuring that Australia's temperate reefs continue to support and deliver valuable services into the future will require a strong knowledge base and the public and political will to look after the system," he said.
"It will need a commitment that reflects the immense ecological, social and economic benefits that we derive from the Great Southern Reef.  Few of us realise the magnitude and value of this gem that is right at our doorstep."
Media references
David Stacey (UWA Media and Public Relations Manager)           (+61 8) 6488 3229 / (+61 0) 432 637 716
Associate Professor Thomas Wernberg (UWA Oceans Institute)    (+61 8) 6488 7204 / (+61 0) 428 730 044
Dr Scott Bennett (UWA Oceans Institute)                                                          (+61 0) 400 434 898
Tags
Channels

Media Statements — Research — Science — University News

Groups

Centre for Marine Futures — Oceans Institute — Science Matters