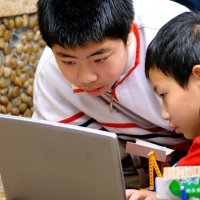 Wednesday, 12 August 2015
In this free public lecture as part of UWA Research Week, Associate Professors Grace Oakley and Mark Pegrum will discuss a research project funded by the Australia-China Council (ACC), where school students aged 13 – 15 years living in Australia and China produced and exchanged digital stories about their everyday lives.The project was undertaken to help improve teaching and learning about language and culture through the use of technology, while also building research relations between academics in Australia and China.

In this presentation, particular emphasis will be placed on the Chinese students and teachers and their experiences during this project, with many valuing the opportunity to connect with students in Australia through the digital stories.

Join Grace and Mark to learn about the successes and challenges that arose along the way, and how many of their findings can be implemented to help us better understand and improve our relations with China.
Associate Professor Grace Oakley
Grace has been a teacher educator since 2000, with a particular interest in Language and Literacy in the Early Childhood and Primary years and the use of ICTs in education.  Prior to this, Grace qualified and worked as a Primary School teacher in WA. She currently supervises a number of research students, and is especially interested in supervising students in the areas of literacy and educational technology.
Associate Professor Mark Pegrum
Mark is the recipient of numerous teaching awards and has authored publications including Brave New Classrooms: Democratic Education and the Internet, and From Blogs to Bombs: The Future of Digital Technologies in Education. Mark's work concentrates on the growing field of digital literacies, especially network literacy and m-learning. He currently teaches in Perth, Hong Kong and Singapore and has given presentations on e-learning in Australia and New Zealand, East and Southeast Asia, and the UK and Europe.
Media references
Siaw Chai , Marketing and Communications Officer +61 8 6488 2382
Tags
Channels

Events — International — Research — Teaching and Learning

Groups

Graduate School of Education