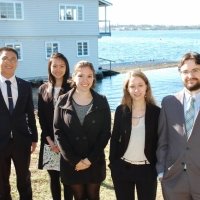 Friday, 29 May 2015
Andrew and Nicola Forrest today announced the first recipients of the prestigious Forrest Research Foundation Scholarships – with the five recipients flying in from around the world to accept their scholarship.Forrest Research Foundation Scholarships are available to international and Australian students who wish to undertake a Doctor of Philosophy (PhD) at one of Western Australia's five universities.

The scholarship recipients are:

* Dulce Vargas Landin, from Mexico, who is studying the epigenome in brain function;
* Timothy Hammer, from the US, studying species survival of an arid Australian plant genus;
* Trung Viet Nguyen, from Vietnam, studying DNA methylation in cancer development;
* Sophie Monnier, from France, studying exploration geophysics focused on ocean bottom seismic data acquisition; and
* UWA International student Grace Goh, from Singapore, studying circadian rhythms and temperature in metabolic function.

In October 2013, the Forrests made what is believed to be the largest single philanthropic donation in Australian history – $65 million to attract the best minds to Western Australia.

The donation included $50 million for the establishment of the Forrest Research Foundation to fund scholarships and postdoctoral fellowships across all five WA universities. A further $15 million will go towards the establishment of Forrest Hall – a new building to accommodate scholarship and fellowship recipients.

The Forrest gift underlines their belief that "only education can be the final key to eliminate poverty in the world and raise the universal standard of living".

"Bringing the best young minds to Australia will ensure that we stay at the cutting edge of the research world," Nicola Forrest said.

"Building a culture that fosters learning and research at the highest level will ensure that Australia remains a strong and vibrant community for generations to come."

Andrew Forrest said he and Mrs Forrest were excited to announce the first round of Forrest Foundation scholarship winners.

"The University of Western Australia is a world-class university and an institution close to my heart," he said.

"The Forrest Scholarship winners represent the beginning of a long term commitment to making Australia a beacon for the great young minds of the world."

UWA Vice-Chancellor Professor Paul Johnson said the University was delighted to welcome the skills, talent, energy and intellect of the first scholarship winners to Western Australia.

"As a result of the Forrests' generosity, we are better able to attract some of the very brightest people from around the world to create a powerhouse of ideas here in Perth, and to advance the development of our state, our society and our culture," Professor Johnson said.

Scholarship recipients were selected from international and Australian applicants who demonstrated outstanding academic ability and the potential to undertake research work that will change the world in which we live.
Media references
David Stacey (UWA Media and Public Relations Manager)      (+61 8) 6488 3229 / (+61 4) 32 637 716
Tags
Channels

Alumni — Business and Industry — International — Media Statements — Research — Students — Teaching and Learning — University News

Groups

Business Briefing — Centre for Energy Geoscience — Faculty of Engineering and Mathematical Sciences — Faculty of Health and Medical Sciences — Geothermal Centre of Excellence — Graduate School of Education — School of Medicine and Pharmacology — The Centre for Exploration Targeting — UWA Institute of Agriculture — UWA School of Agriculture and Environment