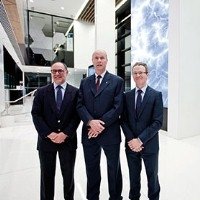 Wednesday, 20 May 2015
People tend to associate arthritis with the wear-and-tear of age, whereas its disabling conditions can afflict all age groups including children who – like others battling the chronic inflammatory autoimmune disease – often face delays in diagnosis.
Recognising the need to raise the profile of these conditions, Arthritis and Osteoporosis WA mounted a four-year campaign to establish a Chair of Rheumatology and Musculoskeletal Medicine – and was delighted to welcome Dutch rheumatologist Johannes 'Hans' Nossent to the inaugural chair at UWA.
Recruited after a worldwide search, Professor Nossent points to a regrettable lack of services for patients with rheumatic conditions, some being as frequent and preventable as diseases such as diabetes.
"Without a cure, these are chronic conditions patients have to deal with for the rest of their lives," stresses Professor Nossent. "However, much can be done to improve their quality of life.
"My priority will be reviewing the medical curriculum and placing more emphasis on rheumatic diseases. We want medical students – our future GPs and physicians – to understand the impact of these conditions on patients and society, and on direct medical costs and loss of productivity. We also view early and correct diagnosis as the key to improving outcomes."
Musculoskeletal conditions affect more than six million Australians – 28 per cent of the population – with the most severe rheumatoid arthritis affecting 2 per cent.
The inaugural professorship is the result of a $2.4 million collaboration between UWA, Sir Charles Gairdner Hospital and Arthritis and Osteoporosis WA. The association's executive director Ric Forlano, who helped recruit Professor Nossent, hopes the new role will shine a much-needed spotlight on long overlooked conditions that deserve the same awareness, research and support services as cancer, heart disease and diabetes.
Professor Nossent studied Medicine in the Netherlands, completing his Rheumatology training at the University Hospital of Leiden. After several international appointments he became staff rheumatologist at Royal Darwin Hospital in 2012, setting up telehealth clinics for remote patients.
The rheumatology expert has co-authored more than 120 scientific publications and several rheumatology text books. He has also served on the board of research, professional and patient advocacy organisations in Europe. Theoretical physics, quantum field theory, string theory – they're a world away from the glitzy world of the movies, but when the movie is The Theory of Everything and there's a need to explain the science behind Stephen Hawking's brilliant career, the gulf needed to be bridged.
Enter Jerome Gauntlett, Professor of Theoretical Physics at London's Imperial College who became the film's Theoretical Physics consultant, meeting with actor Eddie Redmayne for a crash course in black hole physics, writing relevant equations on the blackboard, and providing script advice on the science and pre-screening talks.
The UWA graduate became part of Stephen Hawking's group in the Department of Applied Mathematics and Theoretical Physics at Cambridge after completing his UWA degree in physics and maths. He still recalls with pleasure his time on campus and "the inspirational lecturers as well as lecturers who were very generous with their time".
"At the end of my degree I knew I was interested in theoretical physics and was awarded a Commonwealth Scholarship to Cambridge," he says. "I wasn't entirely prepared for what the university was like in those days (the various hierarchical structures) but I enjoyed playing soccer (as I had done at UWA) as well as cricket for Kings College. I also met my wife Fay Dowker (at a sherry party!) who was studying theoretical physics at Kings. She was Stephen's PhD student and is now a professor at Imperial."
The UWA graduate is passionate about science communication and recently talked about Stephen Hawking and the film at the London's Science Museum: "Understanding the fundamental laws of nature is one of humanity's greatest cultural triumphs and everyone should have access to this knowledge. Doing outreach is one way to facilitate this."
Photo: Dr Jack Edelman, President of Arthritis and Osteoporosis WA; Professor Hans Nossent, Chair of Rheumatology and Musculoskeletal Medicine and Dr Brendan McQuillan, Head of School of Medicine and Pharmacology at the launch of the Chair at the Harry Perkins Institute of Medical Research (Photo: Matthew Galligan)
Tags
Groups

Uniview