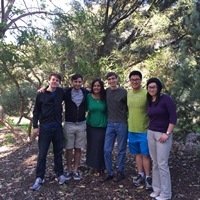 Friday, 8 May 2015
Helping to feed the world may seem like the province of agricultural research, but it is also the challenge of academic and student researchers at The University of Western Australia working in computational biology and information technology – and an enthusiastic team of undergraduates recently made it into the finals of the Incite Awards run by the WA Information Technology and Telecommunications Alliance.
The awards encourage information and communications innovation in WA and the UWA students involved produced a database (www.whiteflybase.org) to help farmers around the world identify a pest threatening cassava crops on which one billion people depend.  The whitefly Bemisia tabaci is an invasive pest that spreads devastating viruses that destroy cassava, beans and other staple foods across the world, including Australia, where the pest attacks market garden plants.
The UWA research into the pest is led by Dr Laura Boykin, a Research Fellow in the School of Chemistry and Biochemistry and ARC Centre of Excellent in Plant Energy Biology.  The high-profile international researcher is a TED fellow and a Chief Investigator on the 10-country African cassava whitefly team supported by a grant to the National Resources Institute at the University of Greenwich awarded from the Bill and Melinda Gates Foundation.
Dr Boykin, whose whitefly research is focussed on Africa, is delighted that her team of committed students have made the Incite Award finals and she uses an African proverb to underline the importance of their enthusiastic teamwork.  "If you want to go fast, go alone, but if you want to go far, go together," quotes Dr Boykin who began her research into the devastating whitefly when working with the US Department of Agriculture in 2004.
At that time it was thought there was only a single species of the pest, however she has identified 34 species – and it is difficult for farmers to distinguish between the harmful and harmless.  Using WA's Pawsey Supercomputer to crunch huge genetic data sets, Dr Boykin's research will help farmers to do just that so they can effectively control the harmful pest.
The database Whiteflybase.org that has made it to the Incite finals is another weapon in the battle against a species that robs a family of food and a crop to market and that is devastating to smallholder farmers in East Africa.
UWA student Leighland Swan said the project – an assignment in Professor Michael Wise's professional computing course – that sees his team counted among finalists in the student category was inspiring.
"We all agree the most appealing aspect of working on Whiteflybase.org was being able to take the rather rare opportunity to put the technical skills that we've learnt to use in a truly meaningful way," he said.
"It took a few weeks for it to dawn on us how extensive the whitefly problem really is and the damage these pests inflict.  With that knowledge – and Dr Laura Boykin's infectious enthusiasm – we aimed to make the site the best we could to support whitefly research.  Even then, we had some doubt about how useful our project would be to Whitefly researchers, so to have the African cassava whitefly team positively judge our project was great.  It really validates that the hard work was ultimately worth it and the project is definitely a useful tool for those actively combating food security issues."
The finalists in all categories of the Incite awards will make presentations to a panel of judges in May and the winners will be announced at a WAITTA INCITE Gala Presentation Dinner of June 19.  More information on Dr Boykin's research.
Caption:  Team S'tawi (Swahili wording meaning "to prosper"):  Leighland Swan, Nikola Milunovic, Laura Boykin, Dennis Robey, Marco Susilo and Wan Ying Goh.
Media references
Dr Laura Boykin (UWA School of Chemistry and Biochemistry)  (+61 4) 37 298 544
David Stacey (UWA Media and Public Relations Manager)  (+61 8) 6488 3229 / (+61 4) 32 637 716
Tags
Channels

International — Media Statements — Research — Science — Students — University News

Groups

School of Molecular Sciences — Science Matters