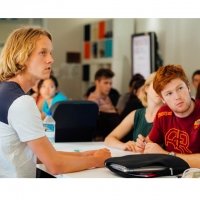 Wednesday, 15 April 2015
A new Innovation Hub at The University of Western Australia will provide students with a space to start-up and grow their own business ventures.
The Innovation Hub, located at St Catherine's College and run by student group Profectus , will help students turn their entrepreneurial ideas into viable businesses.
Co-founding Director of the Innovation Hub, Magnus Hambleton, is studying Economics and Engineering at UWA.
"In the long term we hope to shift the WA economy into the realms of innovation and entrepreneurship and to redefine what success at university means," Magnus said. "We want success to mean adding value to society through building your own innovative business or not-for-profit."
The Innovation Hub will provide basic infrastructure as well as a series of workshops to inspire budding entrepreneurs.
In coming months, companies including Synaptor, Tinderbox Creative, SwitchMyLoan, DrawHistory and Adultshop.com will present on topics such as branding, funding, outsourcing, social media, intellectual property and patents.
Entrepreneurship, according to Magnus, is an enticing field for students.
"I love this field because it is all about innovation and disruption, both for society and for one's own personality. No matter how adept you are in a particular field, to start up your own business you'll have to learn a much wider range of skills due to juggling so many different roles at once," he said.
"We want to create a culture of 'flearning' - or learning through failing - where young people can start their ventures in a safe environment where it is okay to fail and where they can learn valuable lessons that can lead to them disrupting the way that the world works."
Already, UWA's young entrepreneurs are innovating and disrupting the world.
At one recent hack-a-thon , a UWA team developed a highly efficient, mathematically advanced algorithm that can calculate where titanium deposits are most likely to be found along a given coastline. Other Profectus-run hack-a-thons have created a program to keep track of people's online preferred pronouns (particularly relevant for non-cisgender people) and made an app to help people learn to write Chinese characters.
After the Innovation Hub is officially launched on 8 May, Magnus hopes to see more students joining the entrepreneurship movement. By launching their own business, he says, students can learn practical business skills, gain valuable experience working in and managing teams, and meet other active and intelligent people.
To get involved, visit the Profectus website or drop in to the Innovation Hub at St Catherine's College .
Media references
Karen Della Torre (UWA Business School)                                     (+61 8) 6488 8538
Verity Chia (UWA Business School)                                                (+61 8) 6488 1346
Tags
Channels

Business and Industry — Students — Teaching and Learning

Groups

eBiz