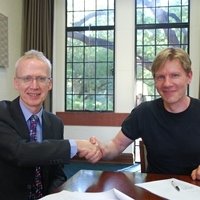 Thursday, 2 April 2015
The University of Western Australia and the Copenhagen Consensus Center today announced the establishment of a new policy research centre at the UWA Business School.
The new centre will focus on applying an economic lens to proposals to achieve good for Australia, the region and the world, prioritising those initiatives which produce the most social value per dollar spent.
The new Australia Consensus Centre will be based at UWA but have global reach.  It will help frame the debate on aid, agriculture and regional issues and focus on smart, long-term priorities.
Over the next four years, it will have three main projects.  One will focus on the smartest development goals for the UN post-2015 agenda, which will be adopted in New York in September.  This project involves several Nobel Laureates and more than 80 of the world's and Australia's top economists.
The second project, the Australian Prosperity Consensus, will focus on determining which policies will help keep Australia prosperous in a generation's time.  It will generate economic evidence on efficiency across a wide range of Australia's greatest challenges, including infrastructure, education, health, environment, governance, innovation and immigration. Its results will support a more informed national debate on Australia's priorities.
The third project will focus on setting global priorities for development aid and help DFAT and development agencies produce the most good for every development dollar spent.  Participants from academics and NGOs, top politicians and philanthropists are encouraged to prioritise on questions such as: resources are limited and some solutions are smarter, so you need to take a stand; if you were making the decisions, what priority would you give the solutions presented to you?
All three projects will involve some of Australia's, the region's and the world's top economists.  The centre will commission international and Australian economists to generate the economic evidence and rational arguments that will help inform the national and international debate and result in the adoption of smarter, more cost-effective policies.
The cooperation between UWA and the Copenhagen Consensus Center will also mean that the President of Copenhagen Consensus, Dr Bjorn Lomborg, will spend time in Perth and across Australia to encourage a conversation on priorities for aid and development and the future prosperity of Australia.
UWA Vice-Chancellor Professor Paul Johnson said: "The Australia Consensus Centre will become the go-to place for useful economic research to inform the national and international debate, building on UWA's many academic strengths."
Dr Lomborg said: "The Australia Consensus Centre is an amazing opportunity to showcase the power of economic research to help inform the national and international conversation on setting the most effective priorities."
Media references
Professor Kent Anderson (Deputy Vice-Chancellor Community and Engagement)  (+61 8) 6488 1646
Copenhagen Consensus: David Lessmann +1 917 832 1435
David Stacey (UWA Media and Public Relations Manager)  (+61 8) 6488 3229 / (+61 4) 32 637 716
Tags
Channels

Events — International — Media Statements — Research — University News

Groups

eBiz