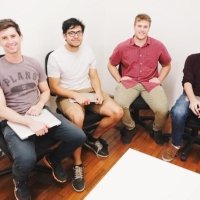 Friday, 27 March 2015
A team of undergraduate student engineers from The University of Western Australia won first prize at the Unearthed 54-hour hackathon event held at Perth's Spacecubed to support innovation in the mining industry.
Team 'J-Bays' took on a challenge posted by the company Iluka Resources to use machine learning to identify J-shaped bays along the coast of Australia.
UWA engineering student and 'J-Bay' team member Corné Fourie said that they had successfully developed a signal processing approach to analyse the coast line and to find the location of these J-shaped bays which are likely to be good titanium exploration opportunities.
"The event was an absolutely fantastic experience all round. It's great to have the opportunity to work with real data sets and actual problems faced by the resources industry," Corné Fourie said.
Team 'J-Bays', which included engineering students Ilyas Ridhuan, Merrick Cloete, Dylan Johnston and Corné Fourie, won $2,500 in cash and $3,000 in Amazon Web Services for their prototype solution. The team now have the opportunity to meet with the companies who saw them pitch their ideas to discuss the possibility of developing them further.

Two researchers from UWA Faculty of Engineering, Computing and Mathematics, Yuki Osada and Ashwin D'Cruz, and former UWA computing student Callum Webb, were also awarded the 'Young Innovators award' for building an app to support quality assurance and control for geological exploration. Named, 'T.Abnomalies', their team was mentored by the Faculty's Adrian Keating, Tim French and Melinda Hodkiewicz.
The aim of Unearthed is to bring together software developers, designers, data scientists, students and experts from industry to collaborate and apply their expertise to operational problems costing the mining sector millions of dollars each year.
Mining companies presented 'real-life' operational problems and data sets to the more than 70 tech-savvy participants who had 54-hours to come up with solutions, then presenting them to an experienced panel of venture capitalists, entrepreneurs and mining executives.

This year UWA, through its Energy and Minerals Institute (EMI), has become the first University in Australia to sponsor the Unearthed hackathon, which will be rolled out in four cities across Australia.


Media references
David Stacey (UWA Media Manager)    (+61 8) 6488 3229 / (+61 4) 32 637 716
Clara Dodman (Faculty of Engineering, Computing and Mathematics)    (+61 8) 6488 7886
Professor Mark Reynolds (UWA School of Computer Science and Software Engineering)    (+61 8) 6488 2279


Tags
Channels

Awards and Prizes — Media Statements — University News

Groups

Faculty of Engineering and Mathematical Sciences