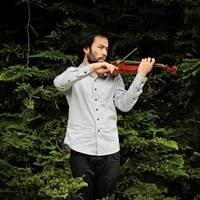 Monday, 23 March 2015
Internationally celebrated violinist Shaun Lee-Chen will return to his alma mater to work closely with his former mentor, national violin icon Professor Paul Wright, when he joins The University of Western Australia's School of Music as Artist in Residence.
Professor Wright, who is constant demand with Australia's major orchestras and ensembles and will soon embark on a tour with the Australian String Quartet, joined UWA Head of Music Dr Alan Lourens this week to announce the coup.
Mr Lee-Chen - currently soloist and guest concertmaster with the Brandenburg Orchestra and a former ABC Young Performer of the Year - will take up the position next month.
The Perth-born performer, who graduated from UWA in 2000 with First Class Honours and the Lady Callaway Medal, is one of only a handful of students from Professor Wright's studio still living in Australia.  He said he was delighted to once again work with Professor Wright and to help guide the cream of Western Australia's emerging young artists.
"I'm really excited to have the opportunity to mentor, perform and lead these exceptional young musicians," he said. "The opportunity to work closely with my former mentor is a privilege."
Professor Wright will balance a return to performing with continued close involvement with the School of Music as it continues a period of unprecedented growth.
"Although I have decided it's time to concentrate much of my energy in performance, I remain passionate about and committed to the School and the students and will continue to work with them," he said.
Dr Lourens said that to enable Professor Wright to pursue his love of performing while still remaining connected to his students, an international search would begin for a world-class musician as Head of Strings.
"With Paul keen to pursue other projects and opportunities, and unprecedented growth in the School of Music (more than a third larger than three years ago), we intend to appoint another world-class musician as Head of Strings, starting in 2016," Dr Lourens said.
"These are exciting times in the School of Music that will help shape the future of music in Australia and further afield.  This opportunity to grow and expand the string program within the school, combined with the appointment of Shaun Lee-Chen as Artist in Residence, places us in an enviable position and ensures our students are offered the wealth and breadth of so many world-class musicians and scholars."
Media references
Sarah Brittenden (School Manager, School of Music)  (+61 8) 6488 2052
Dr Alan Lourens (Head, School of Music)  (+61 8) 6488 1031
Pip White (Concerts and Outreach Co-ordinator, School of Music)  (+61 8) 6488 2054
David Stacey (UWA Media and Public Relations Manager)  (+61 8) 6488 3229 / (+61 4) 32 637 716
Tags
Channels

Appointments — Arts and Culture — Media Statements — University News

Groups

Arts — Music