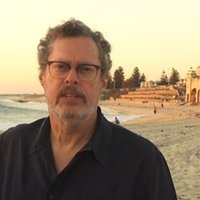 Monday, 23 February 2015
Literature lovers around the world will be able to take advantage of a resurgence of interest in Australian literature thanks to The University of Western Australia's newest online course.
Australian literature: a rough guide is now accepting enrolments via the free online course website Coursera.org, commencing on March 2, 2015.  The six week course - part of a renaissance in the study of Australian literature at home and abroad - is delivered entirely through video content.  It has been filmed partly on location, with course convenor and Chair of Australian Literature, Professor Philip Mead, traversing the country in a bid to showcase some of the places Australia's authors have written about.
Lecture locations include Hermannsburg (Central Australia), Palm Beach (Sydney), New England and the Tasman Peninsula.  Works span from the colonial era to the present and include Marcus Clarke's Term of His Natural Life , Henry Handel Richardson's The Fortunes of Richard Mahony , Judith Wright's poetry, and Christina Stead's For Love Alone .
Professionals are enrolling for personal interest's sake and as an engaging 'refresher' course for previously gained knowledge.  It is also hoped the course will prove popular with school-aged students who wish to trial the experience of a university-level degree.
While not a formally recognised qualification, Coursera courses do provide a Statement of Accomplishment for successful completions.  These certificates are becoming increasingly common citations on LinkedIn profiles, in curriculum vitae, personal websites and more, with participants keen to demonstrate to future employers an interest in particular areas as well as a commitment to lifelong learning and self-improvement.
UWA is recognising and embracing the power of free online courses in driving both accessibility to information and an inspiration to learn, from wherever participants are located geographically and in whatever circumstances they may be. The course so far has attracted a high level of interest from European, North American and Asian communities, and reminds Australian citizens of how attractive our country is and how impressively we can write about it.
Professor Mead said the course was unique in its sense of a connection to country.
"It's a 'rough guide,' a fast and fresh experience of the relations between writing and country - for Australians at home or abroad, and for overseas course participants," he said.  "A sampling of contemporary literary study, the course promotes Australia and Western Australia on the global stage, and introduces the powerful distinctiveness of Australian literature to the world."
Media references
Ashleigh Franklin (Faculty of Arts Marketing Officer)  (+61 8) 6488 2124 / (+61 4) 17 128 336
David Stacey (UWA Media and Public Relations Manager)  (+61 8) 6488 3229 / (+61 4) 32 637 716
Tags
Channels

Arts and Culture — International — Media Statements — Teaching and Learning — University News

Groups

Arts — Graduate School of Education — Humanities