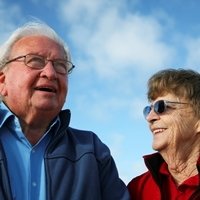 Friday, 13 February 2015
People living and working in residential care facilities will benefit from a new resource launched by researchers from The University of Western Australia's Centre for Health and Ageing (WACHA).
The Towards Organisational Culture Change (TOrCCh) resource offers a proven and practical approach to inspire change within an organisation.  The guide and templates provide a step-by-step course of action for staff to follow, from the first realisation that change is needed through all steps of implementation.
Associate Professor Christopher Etherton-Beer, from UWA's School of Medicine and Pharmacology, said residential care was a key issue for older people in our rapidly ageing society.
"Current projections indicate that older adults will represent 24 per cent of the Australian population in 2056," Associate Professor Etherton-Beer said.
"Despite the opportunities for many older people to enjoy productive and healthy longer lives, population ageing will present residential care facilities with unprecedented care challenges."
A geriatrician and project chief investigator, he said previous research had identified a need for organisational culture change, which impacted on the well-being of residents and staff in a residential care environment.
Organisational culture in residential care facilities is revealed through staff attitudes and work practices, communication processes and effectiveness, leadership and carer-manager relationships, and staff-family partnerships.
"We began to address this gap in our knowledge and so we developed this resource based on the evidence we found," Associate Professor Etherton-Beer said.
"We launched this resource to assist staff in residential care facilities to make things better.  The guide is designed to influence culture, emphasising improved communication processes and we anticipate that this will improve residents' well-being and staff satisfaction.
"For all organisations changing culture is a challenge but these resources have made it easier."
The TOrCCh project was funded by the Federal Government's Department of Social Services under the Encouraging Better Practice in Aged Care funding initiative.  The resources are freely available for download at WACHA .
Media references
Associate Professor Christopher Etherton-Beer (School of Medicine and Pharmacology) (+61 8) 9224 2750
Christianne White (WA Centre for Health and Ageing)  (+61 8) 9224 2993 / (+61 4) 15 213 661
David Stacey (UWA Media and Public Relations Manager)  (+61 8) 6488 3229 / (+61 4) 32 637 716
Tags
Channels

Media Statements — Research — University News

Groups

Faculty of Health and Medical Sciences — School of Medicine and Pharmacology