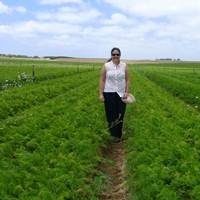 Thursday, 18 December 2014
Passionate and engaging Australian researcher Laura Boykin has been named as the only Australia-based TED Fellow for 2015.
Research Fellow Boykin is a joint researcher at the Australian Research Council Centre of Excellence in Plant Energy Biology and The University of Western Australia's School of Chemistry and Biochemistry.  She is applying her skills in computational biology and genomics to addressing food security issues in Sub-Saharan Africa.
Cassava crops, a staple food source in Africa, are being devastated by whiteflies that feed on the crops and spread viruses.  Whiteflies are one of the most pervasive pests on Earth and whitefly devastation is costing global agriculture billions of dollars a year.  In Africa, the whitefly is leaving many smallholder farmers unable to feed their families.
Dr Boykin is studying the genetics of whitefly species to understand their differences and help to control them.
"Whitefly is a pest which is found all around the world, affecting agriculture wherever they go" she said.
"The techniques we're developing with African whiteflies can be applied with researchers and farmers all around the world."
Dr Boykin also wants to help build capacity in genomics and super-computing in Sub-Saharan Africa, and empower African scientists with high performance computing skills to tackle the cassava and whitefly issue, as well as future insect outbreaks.
As of 2014 she is also working as part of the Bill and Melinda Gates Foundation initiative African cassava whitefly: outbreak causes and sustainable solutions .  The initiative, established and funded by the Gates Foundation, is a collective of international researchers focussed on addressing the cassava and whitefly issue.
"I am not doing this alone," Dr Boykin said.
"I have many collaborators around the world and we are fighting this fight together.  We will only stop when farmers have food all year round and enough surplus to send their children to school and lead healthy, happy lives."
Dr Boykin was named as one of 21 TED Fellows for 2015, and joins an international community of around 300 innovative and "trail-blazing" TED Fellows from previous years.
"After two trips to Kenya and seeing the smallholder farmers suffering, I had to turn towards the heartbreak and do something about it" Dr Boykin said.
"That 'something' is stepping onto that TED stage and telling the world about our research and how we plan to help these famers."
Research Fellow Boykin also looks forward to the opportunity to interact with the "amazing TED Fellows - past, present and future."
The TED Fellowship will provide Dr Boykin with an avenue to raise awareness about food security issues in Sub-Saharan Africa and showcase how genomics and supercomputing are aiding research solutions for smallholder farmers.  She will present at TED2015 in March of next year.
Media references
Karina Price (ARC CoE in Plant Energy Biology, Science Communications Officer)  (+61 8) 6488 4481
Dr Laura Boykin will be available from 19 December for phone/Skype interviews.  (1 623 846 2810. Skype:  laura_boykin)
David Stacey (UWA Media Manager)  (+61 8) 6488 3229 / (+61 4) 32 637 716
Tags
Channels

International — Media Statements — Research — Science — University News

Groups

School of Molecular Sciences — Science Matters — UWA Institute of Agriculture