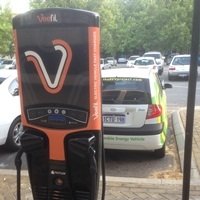 Wednesday, 12 November 2014
Australia's first commercial, combined charging standard, fast-charging station has been installed by the Renewable Energy Vehicle Project (REV) at The University of Western Australia's campus, near the University Club.
Professor Thomas Bräunl, REV project director, said the Combo-CCS station type could charge an electric vehicle in only 30 minutes from empty to an 80 per cent charge level.
"This is about seven times faster than REV's public charging stations in the Perth metro area and about 25 times faster than home-charging," Professor Bräunl said.
The station can charge vehicles with either the US/European Combo CCS standard or the Japanese CHAdeMO standard, which cover all fast-charge-capable electric vehicles currently available in Australia.
Professor Bräunl said the $30,000 station had been donated to REV, with $10,000 installation costs shared by an Australian Research Council Linkage Project grant to research Electric Vehicle Charging Patterns and UWA's Faculty of Engineering, Computing and Mathematics.
"With 50kW of DC charge power, the charger location had to be carefully chosen because it requires sufficient power reserves from a nearby building," Professor Bräunl said.
"Fast-charging stations will change the game for electric vehicles, as they separate parking from charging. During the ARC Linkage project study charging stations were sometimes used more for parking than charging, but this will not happen at this fast-charging station, since usage is limited to 30 minutes after which the driver has to move the electric vehicle."
Professor Bräunl said fast-charging stations could also make commercial charging networks profitable, because they attracted more customers each day and offered a premium charging service for owners.
The REV team is currently investigating the differences in energy efficiency between slow home charging, medium-fast AC charging, and fast DC charging.  The team also plans to investigate the effects of repeated fast-charging on battery life.
The new Combo-Charger is located in UWA's car park no. 3 next to the University Club, entrance from Hackett Drive, and is open for use by the general public.  Power is free of charge and no parking fees apply.
Media references
Professor Thomas Bräunl (UWA School of Electrical, Electronic and Computer Engineering)  (+61 8) 6488 1763 / (+61 4) 02 017 315
David Stacey (UWA Media Manager)  (+61 8) 6488 3229 / (+61 4) 32 637 716
Tags
Channels

Business and Industry — Media Statements — Research — University News

Groups

ECM Faculty Focus — Faculty of Engineering and Mathematical Sciences — The Engineering Essential