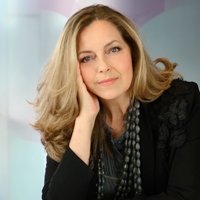 Sunday, 9 November 2014
During the summer of 1975, Greta Scacchi performed on stage for the first time at UWA and made life-long friends that keep drawing her back to Perth. The acclaimed actress spoke to UNIVIEW while in Perth to perform in Black Swan's production of Chekhov's The Seagull at the State Theatre. She remembers two "magical years" that opened a world of possibilities when her stepfather took a sabbatical at UWA.
When my stepfather took up his appointment and I was plucked kicking and screaming from my school in England I was not impressed but when we moved into a house close to the campus I felt at home.
"I remember riding through the campus that first weekend-I hadn't even started school-and seeing an audition notice on a tree. It was for a University Dramatic Society production of The Faery Queen and the audition was a week away. I'd wanted to go on stage since I was eight and while my mother, being a dancer, was supportive there hadn't been any drama clubs where we lived in England. But there were elocution lessons and my wonderful teacher had taught me one of Helena's speeches from The Faery Queen .
"So I went along just to see what an audition looked like. It was held in that little pre-fab that was the original Dolphin, and there was John Milson, Will Queckett, David Zampatti, Julia Moody (who played Helena). They thought I looked rather interesting, but I told them I was only there to watch - after all I was only 15 and wasn't even a student. Of course I had that Helena speech up my sleeve, and when I did it they were quite stunned because I did it rather well!
"That was the beginning. I was immediately cast as one of the fairies and as Titania's understudy, and after that, while I was supposed to be at Hollywood High most of the time I was at UWA painting scenery, handing out leaflets, designing posters or rehearsing.
"UDS was my social life. It was my rite of passage. And those bonds of friendship remain and bring me back to Perth. It was a magic time. They were a very close-knit group, very good at partying, and I was introduced to their colourful world. In lots of ways I had found a new home even though I was a little out of my depth. However they did protect me - I recall David Zampatti took it on himself to be my 'chaperone' ...
"While we were rehearsing The Faery Queen we were also writing the script for the Fairly Clean Revue which was not clean at all, so we met in each others houses and I got to see what student digs were like.
"For me it was an introduction to a group of brilliant young minds in their early 20s making full use of the New Fortune and UWA's facilities. They were all people who went on to do interesting things in the arts, like Jeff Kelso and Phil Thompson, David Zampatti who is now a theatre critic, and Julia Moody who is the voice coach at Black Swan.
"Director John Milson also roped my twin brothers Tom and Paul into The Faery Queen because another member of the cast had an identical twin and they all looked rather similar in age and build. So in that scene where Puck throws his voice to confuse the young lovers, instead of the actor dashing backstage to a new position, John had four Pucks to plant all over the place. My brothers couldn't get out of it: they wore nothing but a fig leaf and didn't forgive me for years!
"I loved the fact that the people I met at UWA had such an appetite for culture and there was so much going on. There was also an openness of mind - and that is still one of the pleasures of doing a play like The Seagull in Australia.
"After those two years in Perth I went straight to drama school in England, to the Bristol Old Vic, where the selection process was very stringent. But I remember feeling that my new companions lacked the intellect, the imagination, and cultural and political awareness I had encountered at UDS. That is what I found so stimulating so I've always been grateful for those two years because in many ways they opened doors for me and opened my mind.
Tags
Groups

Uniview