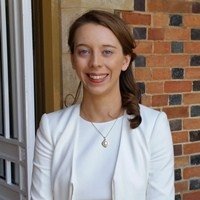 Friday, 31 October 2014
A Masters in International Journalism student from The University of Western Australia who plans to undertake Masters Degree studies in Modern Languages and International Relations at Britain's prestigious Oxford University has won UWA's 100 th Rhodes Scholarship in 101 years.
Amy Steinepreis, 23, of Sorrento, who completed a Bachelor of Arts with First Class Honours in English, French and Italian, became UWA's sixth Rhodes Scholar in four years, following last year's Rhodes Scholar Freya Shearer, a Science graduate who also completed a Diploma in Modern Languages at UWA.
Ms Steinepreis joins a distinguished group of UWA Rhodes Scholars, including former Prime Minister Bob Hawke, former WA Premier Geoff Gallop, the late David Malcolm, former WA Chief Justice and Australian business leader Sir Rod Eddington.
UWA Vice-Chancellor Professor Paul Johnson said he was delighted that Ms Steinepreis, a recipient of UWA's J.A. Wood Prize for most outstanding graduand, had been awarded the University's 100 th Rhodes Scholarship and wished her continued success in her future studies and career development.
"Ms Steinepreis' selection to study at Oxford recognises a remarkable level of achievement based on exceptional intellect, character, leadership and commitment to service - qualities that UWA aims to instil in all its students," Professor Johnson said.
Ms Steinepreis said she hoped to become an international diplomat, working for a global organisation such as UNESCO or the Federal Department of Foreign Affairs and Trade.
"My aspiration is to work as an international cultural diplomat and ultimately in national arts and culture leadership in Australia," she said.
Dux of St Mary's Anglican School for Girls in 2008, Ms Steinepreis commenced studies at UWA under a UWA Fogarty Scholarship and pursued a straight Arts Honours degree, in order to accommodate three majors in English, French and Italian.
"I realised an Arts degree would offer me preparation like no other to engage with the world - because if you can write, philosophise and theorise; you will be better poised to advocate, reform and communicate," she said.
Ms Steinepreis has worked as a journalist for the Square Kilometre Array International Organisation, raised funds for the Harry Perkins Institute for Medical Research and represented UWA at the Australian American Young Leadership Dialogue.
She is a talented tennis player and cyclist and has completed the Ride to Conquer Cancer for the past three years.
Media references
Amy Steinepreis (+61 4) 12 986 636
David Stacey (UWA Media Manager)  (+61 8) 6488 3229 / (+61 4) 32 637 716
Tags
Channels

Events — Media Statements — Students — University News

Groups

Arts — UWA Forward — UWA eNewsletter