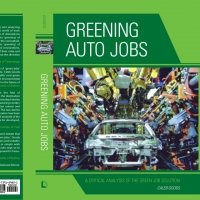 Thursday, 25 September 2014
The UWA Business School's Caleb Goods says transitioning the world of work to green jobs is crucial for Australia's long-term social, environmental and economic future.
Goods , a Research Associate in the Management and Organisations discipline, has written a new book published by Lexington Books called Greening Auto Jobs: A critical analysis of the green job solution .
Launched by Senator Scott Ludlum last week, the book explores the conflicting commitments of political, business and union leaders to the idea of green job creation, and explains why green job creation should play an important part in addressing the world's ecological challenges.
The book presents a case study of green job solutions within the Australian automotive manufacturing industry, using interviews with key industry and union representatives, as well as policy makers.
"Confronting and solving ecological crisis points such as climate change, species extinction, drought and polluted ecosystems will transform and challenge all of the industries in which Australians work," Goods says.
"By creating green jobs, we are crafting jobs which are both ecologically and socially responsible. This means green jobs should directly contribute to reducing environmental impacts to levels that are ecological sustainable and be decent jobs by providing workers with fair working conditions and meaningful work-not just tree planting!
"Within Australia, for example, one of the most interesting and innovative examples of green job creation is in Victoria's Latrobe Valley.
"Latrobe is where electricity is produced using highly polluting brown coal. A group called Earthworker, made up of trade unions, environmental groups and small business, are seeking to create long-term jobs in the manufacture of small-scale solar hot water systems and therefore help transition the local community away from its reliance on the coal industry.
"It's innovative because it has sought to create broad community support and it engages in radical long-term thinking by seeking to transition the community away from a reliance on a highly polluting industry to a green industry future.
"What we need now and into the future is for key players in industry and government to not just talk nicely about their commitments to the environment and notions of corporate social responsibility, but to make long-term tangible commitments to environmental improvements and to stop viewing environmental actions as an added extra."
Greening Auto Jobs: A critical analysis of the green job solution is available now.
Goods is currently working with Winthrop Professor Rob Lambert and Professor Trish Todd on an Australian Research Council project examining the employment relations of engineering services workers in the Australian mining industry. He will soon take up a post-doctoral position at York University in Canada, where he will research climate change in Canadian workplaces.
Media references
Verity Chia (UWA Business School)                                                 (+61 8) 6488 1346
Karen Della Torre (UWA Business School)                                       (+61 8) 6488 8538
Tags
Channels

Business and Industry — Research

Groups

eBiz