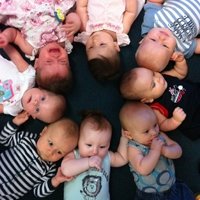 Thursday, 28 August 2014
Parenthood is a significant life transition; a time often experienced by new parents as overwhelming and emotionally and physically exhausting - and new research into families in Perth's newer suburbs suggests that mothers' groups and play groups play a vital role in helping new mothers feel less isolated and anxious.
A study led by The University of Western Australia and now published online points to the importance of such groups in helping mothers build community connections in newer suburbs which sometimes lack infrastructure that promotes social interaction.  The researchers said child health nurses and community groups should be better resourced to facilitate group opportunities for families with young children.
Lead author, PhD candidate Cecily Strange of UWA's Centre for the Built Environment and Health, said in a world of migration and the erosion of traditional support systems, mothers of new babies and pre-schoolers sometimes feel isolated in the suburbs at a time when they most need support.
"Feeling isolated and disconnected can be more common in newer suburbs on the urban fringe, where there is often a long lag between families with young children moving in, and the establishment of important community infrastructure such as community centres, local shops and other places that families can go to locally," Ms Strange said.
"Mothers with young children not yet as school, value having local opportunities to get together with others who are in similar circumstances."
With her UWA colleagues Dr Colleen Fisher and Associate Professor Lisa Wood, and Dr Peter Howat at Curtin University, Ms Strange interviewed 39 mothers of pre-schoolers to gain insights into 16 mothers' groups and 13 playgroups. They also interviewed child health nurses and local government early childhood staff.
They found that mothers' groups and playgroups play a vital role in helping mothers to learn about parenting, in building a supportive network, in forging friendships and in helping mothers feel connected to their community.
The researchers said trends such as one in four Australian residents born overseas (30 per cent in WA), mothers returning to the workforce earlier and older women staying in the workforce longer had led to the fragmentation of families and the erosion of traditional support systems for parents of young children.
The researchers note that the risk of social isolation for young families is compounded by the fact that Australians generally are less likely to interact with neighbours than in the past. "Parents anticipate feeling more connected to their community once children start school, but the years prior to this are a critical time in which mothers need to have social support and contact with others in their local communities," Ms Strange said.
The researchers suggest that planners of new suburbs need to take into account the role of infrastructure in providing families of pre-schoolers with opportunities to meet other people in their communities.
Media references
Cecily Strange (UWA Centre for the Built Environment and Health)  (+61 8) 6488 1297
David Stacey (UWA Media Manager)  (+61 8) 6488 3229 / (+61 4) 32 637 716
Tags
Channels

Media Statements — Research — University News

Groups

Faculty of Health and Medical Sciences — School of Population Health