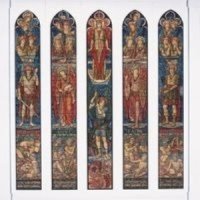 Thursday, 14 August 2014
American servicemen, lost works of art, a mysterious bugle ... it sounds like a whodunit. But it's a new online exhibition from the University Archives.
Stories from the Archives will change your mind about history and archival information, if you are one of those people who think it's all about dusty texts.
The exhibition is one of the final Centenary projects, funded by a $3,000 grant from the UWA Centenary Planning Committee, to bring the colourful stories of the University to life.
University Archives plays an important role as UWA's memory, documenting the big stories, the grand achievements and who did what how and when over the past 100 years.
The archivists have chosen 10 stories that may or may not be part of the University's official history but make fascinating reading.
They range from a military bugle, said to be used by the UWA regiment, donated to the University, whose background still remains a mystery, to the discovery of valuable works of art by pre-Raphaelite artist Henry Holiday, which were lost for more than 30 years.
They include the wonderful story of the students literally bogging in to dig the Reflection Pond so it was ready for the 1932 opening of Winthrop Hall (with the engineering students doing most of the hard yakka and the arts students supplying morning and afternoon tea).
You can read about the 1,200 American servicemen who camped on the banks of Matilda Bay with up to 70 Catalina flying boats, the officers' quarters on the site of what is now University Hall.
You can click on the University's elaborate coat of arms, and see how it has changed over the century.
Marvel at how the archivists found records of a student who later became a staff member when her family asked for help to find out about 'Eva Shell'.  The woman's name turned out to be Malvina Evalyn Wood, but the intrepid researchers at UWA made the connection.  "We're like detectives," said Christina Garnett.
Christina worked with fellow archivists Maria Carvalho, Mim Congdon and Justine McDermott, Director of Information Governance Services, to choose the stories, write the text and come up with the concept of the permanent exhibition.
Maria praised the talents of communications officer in Development and Alumni Relations, Chris Gorham, who helped the team to make the project a reality.
"It has taken us 18 months - longer than we expected - but we think it's worth it," Maria said. "It's not your normal reference page - it truly is an exhibition."
Student protests, the campus peacocks, WA's first computer and Nazi publications in the library complete the showcase.
Tags
Groups

Information Governance Services (IGS) — UWA Forward