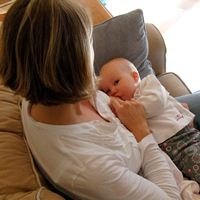 Monday, 7 July 2014
There is no "average" pattern or set of rules when it comes to breastfeeding according to a recent study published in the journal Breastfeeding Medicine .
Assistant Professor Jacqueline Kent, from The University of Western Australia's School of Chemistry and Biochemistry, said the most common reason for new mothers to give up breastfeeding was that they felt they had an insufficient milk supply.
But this perception may be based on a comparison with bottle-fed babies, whose feeds are more regulated than breastfed infants. Some breastfed infants prefer frequent snacks day and night while others take fewer, larger feeds.
"We found that from the first to the third months of life, although babies tended to decrease their feeding frequency, they were actually increasing the amount they took during each session while their 24-hour overall intake remained the same," Assistant Professor Kent said.
"Health professionals working with new mothers can give them confidence that changes in breastfeeding behaviour are not an indication of insufficient milk supply, but are more likely due to an increase in stomach capacity of the baby and part of a normal, healthy breastfeeding relationship."
Professor Kent has spent many years studying the biochemistry and physiology of lactation and breastfeeding in babies, working closely with Winthrop Professor Peter Hartmann, who is internationally recognised for his research into human lactation and founded the UWA Human Lactation Research Group, now led by Associate Professor Donna Geddes.
By understanding exactly how the process of lactation works, researchers such as Assistant Professor Kent are able to provide an evidence base to improve treatment when medical difficulties arise in breastfeeding mothers, encourage more mothers to breastfeed and improve existing technology in hospitals, such as breast pumps.
Media references
Assistant Professor Jacqueline Kent ( School Of Chemistry and Biochemistry ) (+61 8) 6488 1208
David Stacey (UWA Public Affairs)  (+61 8) 6488 3229 / (+61 4) 32 637 716
Tags
Channels

Media Statements — Research — University News

Groups

School of Molecular Sciences — Science Matters