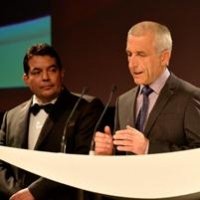 Thursday, 22 May 2014
Two internationally acclaimed physicists from The University of Western Australia whose technology has been extensively used by the defence sector have won a prestigious national award.
Winthrop Professor Eugene Ivanov and Winthrop Professor Michael Tobar, leaders of the Frequency Standards and Quantum Metrology Research group at UWA, were last night presented with a Science and Technology Award at The Australian Academy of Technological Sciences and Engineering (ATSE) Clunies Ross Awards Dinner held at Perth Convention Centre.
Over the past 20 years, Professors Tobar and Ivanov have invented new technologies based on microwave circuit and sapphire dielectric resonator technology, leading them to the development of the world's lowest-noise oscillators.  The oscillators have been used in laboratories worldwide to enable modern atomic clocks to keep time with unprecedented accuracy.
Their inventions have found a range of applications, from fundamental research to metrology, hi-tech communications and defence.  Their high-value technology has boosted the defence sector through the advancement of radar and navigation systems as well as other areas that require sophisticated, low-noise, high-precision frequency standards.
The hi-tech company Poseidon Scientific Instruments (PSI) supported Professor Tobar and Professor Ivanov's research projects over a long period, with the help of eight collaborative research grants totalling $5 million from the Australian Research Council.
Their work has been widely published in international journals and created a valuable body of intellectual property, which was patented to enable commercialisation.  PSI has used their technologies under licence from UWA, generating more than $30 million in sales.
PSI sub-licensed the inventions to technology giant Raytheon Australia, which incorporated it into the advanced radars of the Aegis missile defence system.  Raytheon acquired the portfolio of inventions and the rights to the technology in 2012, enhancing its world-leading technology and defence capabilities and technical expertise in ultra-low-noise signal generation and measurement.
"Ivanov and Tobar's commitment to sustained innovation in science and technology is evident in their continual development of discoveries they deem as potentially beneficial to Australia, and their dedication to the research, products and partners saw them always available for consultation during manufacturing processes," the awards judging panel said.
The ATSE Clunies Ross Awards are given in recognition of the outstanding application of science and technology that provide economic, social and/or environmental benefit to Australia.  ATSE is an independent body of more than 800 Australian scientists and engineers seeking to enhance Australia's prosperity through technological innovation.
Previous UWA Clunies Ross winners include Nobel Laureate Professor Barry Marshall, who discovered the bacteria that causes stomach ulcers, Winthrop Professor Fiona Wood, inventor of spray-on skin, Professor Tim St Pierre, who developed a pain and risk-free liver test and Winthrop Professor David Blair, for his quest to detect gravity waves.
Media references
Winthrop Professor Michael Tobar (UWA School of Physics)  (+61 8) 6488 3915
Winthrop Research Professor Eugene Ivanov (UWA School of Physics)  (+61 8) 6488 3818
David Stacey (UWA Public Affairs)  (+61 8) 6488 3229 / (+61 4) 32 637 716
Tags
Channels

Awards and Prizes — Business and Industry — Events — International — Media Statements — Research — University News

Groups

School of Physics