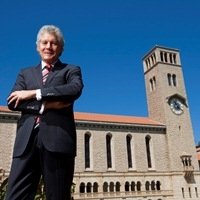 Tuesday, 29 April 2014
Former foreign affairs and defence minister Stephen Smith has returned to scholarship at The University of Western Australia as Winthrop Professor of International Law.
Professor Smith has a strong background in law and connection with UWA.  He was awarded a Bachelor of Jurisprudence in 1976, a Bachelor of Laws Degree (LLB) at UWA in 1977 and admitted as a Barrister and Solicitor of the Supreme Court of WA in the same year.  Professor Smith also obtained a Bachelor of Arts degree (BA) in 1979, was admitted as a Barrister of the Bar of England and Wales (Middle Temple) in 1980, and awarded a Master of Laws from London University (London School of Economics) in International Law in 1982.  He subsequently tutored part time in Public International Law at UWA in the mid 1980s.
UWA Vice-Chancellor, Professor Paul Johnson, said Professor Smith would add tremendous intellectual value to the University's Law School.
"Stephen Smith is returning to the University from which he graduated with Bachelor Degrees in both Law and Arts.
"Mr Smith made a tremendous contribution to the nation during his Parliamentary career.  His experience as foreign affairs minister, trade minister and minister for defence will be a great asset to the University's Law School and its scholarship in International Law and International Relations."
The Dean of UWA Law School, Professor Erika Techera, said she was delighted Professor Smith had accepted the position.
"Stephen Smith's work at the Law School will focus on the Master of International Law and Master of International Relations students and courses.
"He will bring with him a practical understanding to the study of International Law and International Relations," Professor Techera said.
Professor Smith is also a member of the board of the Perth USAsia Centre, based at UWA and a member of the Advisory Board of the Perth legal firm, Lavan Legal.
Professor Smith's son and daughter are studying at UWA.
Media references
David Stacey (UWA Public Affairs)  (+61 8) 6488 3229 / (+61 4) 32 637 716
Tags
Channels

Appointments — International — Media Statements — Research — Teaching and Learning — University News

Groups

Law