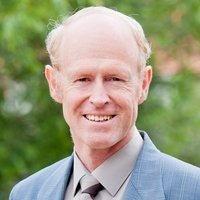 Friday, 28 March 2014
Despite the Water Corporation's heavy investment in desalination, groundwater replenishment and changes to groundwater management, important water law reforms are required to respond to pressure from climate change and population growth on the State's invaluable groundwater resources, according to researchers at The University of Western Australia.
Associate Professor Alex Gardner and project researcher Michael Bennett, from UWA's Law School, have co-authored a draft report calling for greater flexibility in water resources law and more secure water rights.  These reforms are needed, they say, because a rapidly drying South West climate will put more pressure on significant groundwater resources that are already either fully allocated or overallocated.
The draft report, released this week for consultation, recommends law reform ideas for consideration by the WA Department of Water, which is currently in the process of reforming water law.
Professor Gardner leads the Law School's water resources law research with the National Centre for Groundwater Research and Training and the Co-operative Research Centre for Water Sensitive Cities.
He said increasing demand for water by a growing population and a rapidly drying South West climate were putting intense pressure on groundwater use and management.  The area stretching from Geraldton to Albany, which is home to 90 per cent of the State's population, had experienced a serious decline in rainfall.
"The Australian State of the Climate Report 2014 confirmed that average winter rainfall in the South West has declined 17 per cent since 1970," he said.  "This has led to a dramatic reduction in stream flow (more than 50 per cent) into surface reservoirs and a greater use of groundwater, which supplies around three-quarters of water use, even as groundwater recharge has declined.
"With an even dryer future projected due to climate change, and increasing groundwater demand, there is a clear need for more effective laws to keep groundwater use within sustainable limits.  Setting and enforcing sustainable limits on groundwater use will encourage investment in new technology for water use efficiency and new augmentation schemes."
Professor Gardner said desalination could not take the pressure off all groundwater resources.  "While desalination now supplies about half of Perth's public drinking water (approaching 150GL/yr out of around 300GL/yr), the estimated self-supply of groundwater in the South West is approximately 700GL/yr.  Desalination is not an option for most self-supply water users."
The South West, one of 25 global biodiversity hotspots, contains water resources that support areas of great environmental significance, including the popular Blackwood River ecosystems which depend on groundwater flows to survive the summer.
"Urban environments are also feeling the stress, as there is less groundwater to irrigate public open spaces that mitigate the impacts of summers that are becoming hotter and dryer," Professor Gardner said.  In many cases, the volume of water licensed for extraction was at or above the allocation limit, he said.
"Actual overuse (extraction beyond legal entitlement) is more difficult to ascertain and to regulate under current laws," he said.  "Many people know of the overallocation of the Gnangara Groundwater System, but there are six other groundwater management areas in the South West that have some level of overallocation."
The draft report addressing these questions: "A Regulatory Framework for Groundwater Management in a Drying South West" is available from the research project website .
Mr Bennett and Professor Gardner are running a series of seminars and interviews in mid-April to explain their recommendations and seek feedback.  The research project is funded by the National Centre for Groundwater Research and Training .
Media references
Associate Professor Alex Gardner (UWA Law School)  (+61 8) 6488 2483
David Stacey (UWA Public Affairs)  (+61 8) 6488 3229 / (+61 4) 32 637 716
Tags
Channels

Media Statements — Research — University News

Groups

Law — UWA Institute of Agriculture