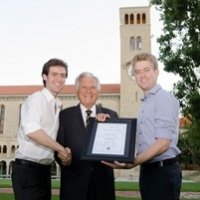 Thursday, 27 March 2014
In a final nod to the Centenary, the Student Guild honoured one of its most famous presidents with Life Membership.
Former Prime Minister Bob Hawke was presented with his certificate late last year by both the outgoing and the incoming Guild Presidents, Cam Barnes and Tom Henderson.
"Some of the happiest days of my life were here at the Guild and UWA," Mr Hawke said. "I owed a gratitude to the many people I met here, as they helped to shape me as a person.  It is a wonderful experience to have shared."
Bob Hawke was Guild President in 1952, a year which culminated in him winning a Rhodes Scholarship.
At Oxford, he studied philosophy, politics and economics, then transferred to a Bachelor of Letters with a thesis on wage-fixing in Australia, signalling his later leadership of the Australian Council of Trade Unions.
When he returned to Australia from Oxford, he took on doctoral studies in arbitration law at the Australian National University in Canberra.. In the early 1960s, he was the student delegate on the ANU council, continuing his interest and active participation in representing students, which began at UWA.
While still a student at UWA, he established the first International Club, affiliated with the Student Guild. "I believed it was important to bring together the many international students into the wider UWA community," he said.
Later this year, the Guild will announce a new Guild Alumni, to bring together all those who were actively involved in the Guild during their student days at UWA.
Tags
Groups

UWA Forward