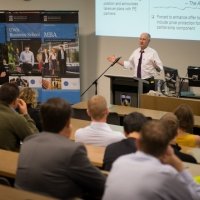 Friday, 24 January 2014
From January 2015, MBA Full Time students at the UWA Business School will be able to fast-track their careers and gain a world-class degree in only 12 months.
The new degree, offered with the backing of Western Australia's top business leaders, is unique because it will provide all students the opportunity to complete a three-month Business Advisory Project within leading global companies, participate in a personalised Leadership Development Program and build sustainable business networks by having individual and group interactions with business leaders from diverse sectors.
Students will be able to choose options from three focus areas in: Natural Resources, Leadership and General Management.
Dean of the UWA Business School, Winthrop Professor Phil Dolan, said the new internationally accredited 12-month MBA would suit employees seeking to take a shorter break from full-time employment in order to advance their business skills and career prospects through further study.
"It targets people who want to transform their careers while building strong business networks and gaining crucial industry experience," he said.
Perth business leader Dr Mark Barnaba, who chairs the UWA Business School Board, said UWA's new MBA Full Time had strong business backing.
"Employers across industry are demanding MBA graduates who have the skills and experience to perform from day one," he said.
"UWA's MBA Full Time will ensure graduates are fully prepared to take on leadership roles anywhere in the world."
The new MBA program will be taught by world-class faculty, including: two Australian Research Council Future Fellows, Winthrop Professor Cristina Gibson and Winthrop Professor Sharon Parker; Woodside Chair in Leadership and Management, Winthrop Professor David Day; BHP Billiton Chair in the Business of Resources, Winthrop Professor Peter Hartley and BHP Billiton Distinguished Research Fellow, Winthrop Professor Ken Clements.
MBA Full Time students will have multiple opportunities to interact with senior managers and executives from companies such as ATCO Australia, BHP Billiton, Ernst & Young, Resource Capital Funds, Wesfarmers and Woodside.
The new offering from the UWA Business School, the only business school in Western Australia to hold international accreditation from both AACSB, the Association to Advance Collegiate Schools of Business and EQUIS, the European Quality Improvement System, is expected to attract applicants from across the world.
Applications open on 3 February 2014.
More information on the MBA Full Time is available here , by calling +618 6488 3980 or by emailing [email protected]
Media references
Karen Della Torre (UWA Business School)                          (+61 8) 6488 8538
Verity Chia (UWA Business School)                                        (+61 8) 6488 1346
Tags
Channels

Business and Industry — Teaching and Learning

Groups

eBiz