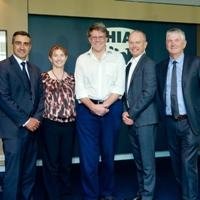 Tuesday, 3 December 2013
The building industry loses members to mesothelioma at a tragic rate. Perth building identity Dale Alcock's personal loss has been marked with a generous donation that will enable cutting edge genomic research into the disease.
The Housing Industry Association Charitable Foundation and Alcock-Brown-Neaves presented a $375,000 cheque while WA Charity Direct provided $25,000 to The University of Western Australia affiliated National Centre for Asbestos Related Diseases (NCARD) , headed by WA Australian of the Year Winthrop Professor Bruce Robinson AM.
Dale Alcock's family owned a building company and hardware supplier in the West Australian Wheatbelt town of Kellerberrin.  Mr Alcock's father Dennis, a bricklayer and builder, died three years ago from mesothelioma.
NCARD Senior Researcher Dr Jenette Creaney said the funding would support a joint project by the National Centre for Asbestos Related Disease and the Queensland Centre for Medical Genomics.
It will determine the changes that have occurred in the sequence of over three billion DNA building blocks that make up a person's genetic blueprint, which have resulted in cancer.
"All cancers arise because of alterations in a person's DNA. New sequencing technologies provide an opportunity to examine the genetic make-up of mesothelioma at an unprecedented level," Dr Creaney said.
"Determining the genetic sequence of one tumour is an expensive and labour intensive process that generates over two terabytes (1000 000 000 000 bytes) of data per sample.  Identifying the patterns that occur and common features of the tumour generating process will require the sequencing of many cases."
It's hoped that through identifying the changes that have occurred in mesothelioma new therapeutic strategies can be devised to target the changes and improve patient outcomes.
Similar studies are being undertaken in many different tumour types particularly the common tumours of breast cancer, colon cancer and lung cancer, but as yet little work has been done in mesothelioma. In lung cancer the identification of changes in specific genes has improved the use of specific targeted therapies to those patients that will benefit most.
Media references
Tracy Hayward (National Centre for Asbestos Related Diseases (NCARD)  (+61 8)  9346 2005
Winthrop Professor Bruce Robinson (UWA School of Medicine and Pharmacology)  (+61 8)  9346 2098
Adjunct Professor Jenette Creaney , Clinical Adjunct Staff (Medicine and Pharmacology, SCGH)  (+61 8)  9346 3510
UWA Public Affairs Media Team  (+61 8)  6488 7977  /  (+61 4) 32 637 716
Tags
Channels

Events — Media Statements — University News

Groups

Faculty of Health and Medical Sciences