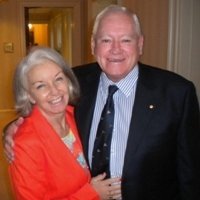 Friday, 15 November 2013
One of Australia's leading philanthropists, Greg Poche AO and his wife Kay, have provided $10 million to The University of Western Australia to create a WA-based centre for Indigenous health.
Mr Poche - who has donated more than $105 million to causes around Australia - is the former founder and owner of Star Track Express.
UWA's new Poche Centre for Indigenous Health joins sister centres at Flinders University in Adelaide and the University of Sydney.  Around Australia, the goal of Poche centres is to significantly improve Aboriginal and Torres Strait islander health and stronger social, spiritual and emotional wellbeing.
Mr Poche has previously said publicly that "it would be a tragedy to live a privileged, wealthy life without doing good for other people."
Mrs Poche said she and her husband were committed to doing their best for Indigenous Australians.  "Improving the health and wellbeing of Indigenous Australians is one of our nation's biggest challenges and it is vital that we do everything we can.  Greg and I are determined that the Poche Centres will make a big difference."
The theme for UWA's centre for Aboriginal people and communities is 'Healthy Minds, Healthy Lives'.
Although there have been recent improvements to the health outcomes for indigenous Australia, more needs to be done to close the gap.  For Indigenous people born between 2005 and 2007, life expectancy was estimated to be 67.2 years for males and 72.9 years for females, around 10-11 years less than non-Indigenous Australians.
UWA's Vice-Chancellor, Professor Paul Johnson, said the University had long-established national strengths in Aboriginal health research and education.
"The establishment of a Poche Centre for Indigenous Health at UWA will bring together the University's considerable expertise, programs and resources in Aboriginal health in a strong partnership," Professor Johnson said.
"Fostering collaborations between health professionals and Aboriginal communities is critical for successful health outcomes."
The UWA Poche Centre will work with the University's School of Indigenous Studies and Centre for Aboriginal Medical and Dental Health within UWA's Faculty of Medicine, Dentistry and Health Sciences.  The new Centre will work alongside the Rural Clinical School and Combined Universities Centre for Rural Health - geographically the world's biggest medical school.
School of Indigenous Studies Dean, Winthrop Professor Jill Milroy, said closing the gap in health and life expectancy for Aboriginal people had been identified as a nationwide priority.
"We are pleased that the new Centre recognises the centrality of culture and wellbeing to promoting good mental health in Indigenous communities," she said.  "Aboriginal knowledge systems will be the cultural lens and framework for research, education and the delivery of programs."
The Centre will tackle children's health, disability and developmental outcomes as well as chronic disease.
Professor Milroy and her team will address the overarching issue of Aboriginal culture and its relation to social and emotional wellbeing and mental health - issues that are estimated to contribute as much as 22 per cent of the life expectancy gap for Aboriginal people.
The historic legacy, intergenerational trauma, chronic stress, contemporary trauma and loss, and disadvantage - particularly in education - all contribute to poor mental health, poor physical health and chronic disease.
Media references
Winthrop Professor Jill Milroy (Dean, UWA School of Indigenous Studies)  (+61 8)  6488 7829
UWA Public Affairs Media Team  (+61 8)  6488 7977  /  (+61 4) 32 637 716
Tags
Channels

Events — Media Statements — Research — University News

Groups

Faculty of Health and Medical Sciences — School of Indigenous Studies — UWA Centenary