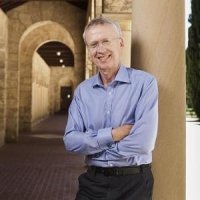 Friday, 18 October 2013
Last week saw the culmination of the University's centenary year spring graduations, with 1,852 students celebrating the successful completion of their undergraduate and postgraduate degrees.
One of the highlights of the six ceremonies - which took place over two weeks - was a speech by UWA graduate Tim Minchin, who was awarded the Honorary Degree of Doctor of Letters for his contribution to the arts.
Tim Minchin, who is not yet 40, has won worldwide acclaim as a composer, lyricist, comedian, actor and writer. His smash hit musical Matilda received a record seven Olivier Awards - British theatre's most sought-after awards. He teamed with fellow UWA alumnus, author, artist and film-maker Shaun Tan to narrate The Lost Thing, which gained the 2011 Oscar for best animated short film.
Our graduation ceremonies mark the beginning of the next stage in the lives of our graduands. An important feature to the ceremony is the Occasional Address during which the guest speaker imparts some words of wisdom to the graduating class.
In his Occasional Address to 225 Arts and Science graduands, their families, partners and friends, Tim Minchin not only delighted his audience, he inspired. He gave these nine life lessons that I want to share with you because they're worth thinking about no matter how old you are or what your position on campus. In short, this is what he said:
"One: Be micro-ambitious. Put your head down and work with pride on whatever is in front of you. You never know where you might end up.
"Two: Don't seek happiness. Keep busy and aim to make someone else happy and you might find you get some as a side effect.
" Three: Understanding that you can't truly take credit for your successes nor truly blame others for their failures will humble you and make you more compassionate.
"Four: Exercise. Take care of your body: you're going to need it.
"Five: Be hard on your opinions. Be intellectually rigorous. Identify your biases, your prejudices, your privileges.
"Six: Even if you're not a teacher, be a teacher. Share your ideas. Don't take for granted your education.
"Seven: Define yourself by what you love. Be demonstrative and generous in your praise of those you admire. Send thank you cards and give standing ovations. Be pro stuff not just anti stuff.
"Eight: Respect people with less power than you.
"Nine: Finally, don't rush. You don't need to know what you're going to do with the rest of your life."
If you would like to hear Tim Minchin's speech in full, or read a transcript, it is available here: https://www.news.uwa.edu.au/201309176069/alumni/tim-minchin-stars-uwa-graduation-ceremony
Congratulations to everyone who had a hand in these graduations in whatever capacity. We value your contribution.
Paul Johnson
Vice-Chancellor
Tags
Groups

UWA Forward