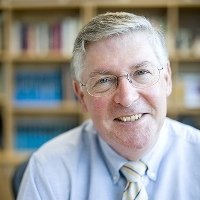 Thursday, 17 October 2013
Professor Peter Quinn, ICRAR Director and Professor of Astronomy and Astrophysics at The University of Western Australia is among 25 Australian researchers, technological scientists, engineering, innovation and business leaders elected today as new Fellows of the prestigious Australian Academy of Technological Sciences and Engineering (ATSE).
The Academy seeks to foster excellence in technological sciences and engineering to enhance Australia's competitiveness, economic and social well-being, and environmental sustainability, and is an independent body of 800 eminent Australian engineers and scientists.
The Academy cited Professor Quinn as a world leader in data-intensive science as well as the design, development and operation of super-science facilities, including the next-generation radio telescope Square Kilometre Array (SKA), to be co-hosted by Australia and Southern Africa in the latter half of this decade.
"Professor Quinn has worked closely with global data companies towards the design and development of the SKA data processing systems," the Academy said.
"He is ranked by Thomson Reuters as one of the top 250 astronomers in the past 25 years."
UWA Vice-Chancellor Professor Paul Johnson congratulated Professor Quinn on his election and praised his role in the formation and continued success of the International Centre for Radio Astronomy Research, which was awarded $26 million in State Government funding last month by WA Premier Colin Barnett.
"The University of Western Australia counts many staff and alumni among the fellows of the Australian Academy of Technological Sciences and Engineering, and Professor Quinn's research record and leadership make him an excellent addition to their ranks," Professor Johnson said.
Other new ATSE Fellows include Reserve Bank of Australia Board Member Kathryn Fagg, Woodside Petroleum CEO Peter Coleman, Telstra CEO David Thodey and Rio Tinto Autonomous Haul Trucks CCO Denise Goldsworthy.
UWA Chancellor Dr Michael Chaney and Deputy Vice-Chancellor Professor Robyn Owens were elected to the prestigious Australian academy in November last year.
Further Information:
ICRAR is a joint venture between Curtin University and The University of Western Australia which launched in 2009 and is collaborating internationally to help realise the world's largest telescope, the Square Kilometre Array.
Find the full list of fellows elected here .
Below images available in full resolution here.
Media references
Professor Peter Quinn (ICRAR Director)  (+61 8)  6488 4553  /  (+61 4) 14 185 052
Kirsten Gottschalk (Media Contact, ICRAR)  (+61 8)  6488 7771  /  (+61 4) 38 361 876
Michael Sinclair-Jones (UWA Public Affairs)  (+61 8)  6488 3229  /  (+61 4) 00 700 783
Tags
Channels

Awards and Prizes — Media Statements — University News

Groups

International Centre for Radio Astronomy Research — Science Matters