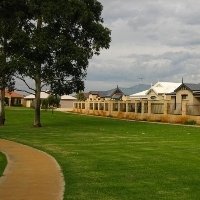 Tuesday, 1 October 2013
A tool that determines just how much green space Perth people have access to and what needs to be provided to get them off the couch and back into the 'great outdoors' has been developed  by researchers at The University of Western Australia.
The new interactive database developed by the Centre for the Built Environment and Health based at UWA's School of Population Health has collected data across 32 Local Government Areas (LGAs) in the Perth metropolitan and Peel areas.
Some of the key findings include:
Park area varies and ranges from as high as 800ha of parks (City of Stirling) to as low as less than 7ha (Peppermint Grove)
As a percentage of the total LGA, park area accounts for between less than 1 per cent (Murray) up to 16 per cent (City of Perth)
Park area per person ranges from 110m 2 per person (City of Perth) to as low as 9m 2 (Cottesloe) per person.  Most LGAs have been between 20-45m 2 per person.
Park area across Perth ranges from 11.5ha per 1000 residents (Perth) to as low as 1ha per 1000 residents (Cottesloe)
The percentage of the population who live within the recommended two kilometre distance of a medium sized park (7-15ha) known as a "district park", ranged from zero (0 per cent) to almost everyone (97 per cent) with an average of half the population meeting this criteria across the 32 LGAs (mean of 52 per cent).
"We can refine this to look at whether the needs of particular groups of people are met," Professor Fiona Bull, Director of UWA's Centre for the Built Environment and Health.
"We looked at the percentage of the population in each area living with access (within 300m) to a small park known as a "pocket park" and found this ranged from 0 per cent to 37 per cent.
"The Public Open Space Tool enables us for the first time to visualise and analyse the distribution of parks across Perth and the Peel region to help with research and planning decisions now and for the future," she said.
The WA branch of Parks and Leisure Australia (PLA) has also supported the development of POS Tool, recognising its "broad potential for spatial and social planning, urban development and as an aid in research for developing thriving communities".
Worldwide, around a third of adults (about 1.5 billion people) and four out of five adolescents are failing to do recommended amounts of physical activity, placing them at 20-30 per cent greater risk of heart disease, diabetes, and some types of cancer.
"Societal trends are leading to less activity than previously, and having a clear picture of our green spaces will go some way toward the work needed to be done to address physical inactivity as a public health issue," Professor Bull said.
Parks and Leisure Australia and the Centre for the Built Environment and Health will officially launch the application of the POS Tool today. For more information go to www.parksleisure.com.au/events or contact the PLA WA Office on [email protected]
Media references
Professor Fiona Bull (UWA Centre for the Built Environment and Health)  (+61 8)  6488 1249  /  (+61 4) 07 703 893
Dr Paula Hooper (UWA Centre for the Built Environment and Health)  (+61 8)  6488 8728  /  (+61 4) 49 614 255
Michael Sinclair-Jones (UWA Public Affairs)  (+61 8)  6488 3229  /  (+61 4) 00 700 783
Tags
Channels

Media Statements — Research — University News

Groups

Faculty of Health and Medical Sciences