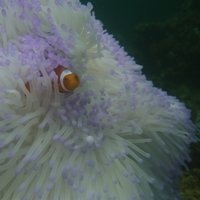 Monday, 26 August 2013
Rising sea temperatures and subsequent bleaching of corals and anemones are causing significant and widespread damage to coral reef ecosystems - and threatening the iconic species associated with them, according to an international study led by scientists from The University of Western Australia's Oceans Institute.
In a paper published in the August edition of the international journal PLOS ONE , scientists including research associates Dr Jean-Paul Hobbs and Dr Michele Thums of the UWA Oceans Institute examined fish that depend on anemones from the Pacific and Indian Oceans and Red Sea and counted almost 14,000 anemones.
They found that higher sea temperatures were linked to five major bleaching events where 20 to 100 per cent of anemones bleached.  And while some anemones can survive bleaching and recover, some are still at risk of dying or serious health issues.
Dr Hobbs, lead author of the study, said the research highlighted the danger of climate change to anemones.
"Increases in sea temperatures cause anemones to become stressed and turn white and the death of bleached anemones has dire consequences for anemonefish," he said.  "When an anemone dies, the anemonefish have nowhere to live and no protection and they are quickly eaten by predators."
Of the 28 species of anemonefish, clownfish are the most famous thanks to the 2003 Disney movie Finding Nemo , a film which also helped promote Australia's unique marine biodiversity.  These commercially valuable fish enjoy a close symbiotic relationship with anemones and their well-being is inextricably linked to that of their host anemones.
"The occurrence of major anemone bleaching events in response to episodes of elevated sea temperatures is concerning given the forecast increase in sea temperatures associated with climate change," the authors said.
The study concludes that the future of the iconic and commercially valuable anemonefish is dependent on the ability of host anemones to cope with rising sea temperatures associated with climate change.
The study, Taxonomic, Spatial and Temporal Patterns of Bleaching in Anemones Inhabited by Anemonefishes, involved scientists from UWA's Oceans Institute and School of Environmental Systems Engineering; the Australian Institute of Marine Science (AIMS),  Australian Research Council Centre of Excellence for Coral Reef Studies at James Cook University in Queensland; The Red Sea Research Center at the King Abdullah University of Science and Technology in Saudi Arabia; The Scripps Institution of Oceanography in California; and Woods Hole Oceanographic Institution in Massachusetts.
Media references
Dr Jean-Paul Hobbs (UWA Oceans Institute)  (+61 8)  6488 4648  /  0435 488 773
Michael Sinclair-Jones (UWA Public Affairs)  (+61 8)  6488 3229  /  (+61 4) 00 700 783
Tags
Channels

International — Media Statements — Research — University News

Groups

Oceans Institute