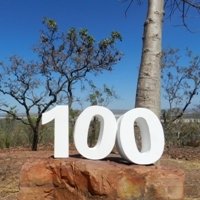 Monday, 5 August 2013
The University of Western Australia is visiting high school students across the Kimberley to showcase the diversity of engineering and how it impacts our everyday lives.
The UWA Gives Back Kimberley Tour is hosted by the UWA Faculty of Faculty of Engineering, Computing and Mathematics as part of the University's 2013 Centenary Celebrations to encourage high school students to consider tertiary studies and stimulate local debate on important regional issues.
UWA fourth year Environmental Engineering student Samantha Shepherd, who was born in Wyndham and grew up in the Kimberley and Pilbara, is among the tour group.
Samantha and fellow engineering students will share their experiences with schools in Kununurra, Wyndham, Halls Creek, Fitzroy Crossing, Derby and Broome, using interactive activities to generate interest and curiosity about engineering.
Aspire UWA , which works with partner schools in the Kimberley, is also helping the Faculty raise university aspirations for these students.  Throughout each of the school visits the team will facilitate hands on activities that highlight the benefit of going to university.  They are also encouraging students to get involved in the program through school facilitated camps and activities.
Engineers from global energy giant Shell Australia (a gold sponsor of the tour) will join the activities, sharing their career stories with students, and a UWA maths academic will provide professional development for teachers exploring a number of engaging maths activities that teachers can incorporate into their lessons.
The Broome community will tonight experience Centenary Celebrations with a light projection on the sail at the Pearl Luggers, which showcases the 100-year history of UWA.  UWA alumni, business leaders and local government representatives will also have the opportunity to meet UWA Vice-Chancellor Professor Paul Johnson and Faculty executive staff.
The Kimberley Roadshow, which runs until this Wednesday 7 August, is supported by Shell Australia.
Media references
Rachael Penning-Bourne (UWA Faculty of Engineering, Computing and Mathematics)  (+61 8)  6488 3109  /  (+61 4) 37 711 456
Louise Pollard (Aspire UWA)  (+61 4) 12 267 148
Simone Hewett (UWA Public Affairs)  (+61 8)  6488 7977  /  (+61 4) 13 444 154
Tags
Channels

Events — Media Statements — University News

Groups

Faculty of Engineering and Mathematical Sciences — UWA Centenary