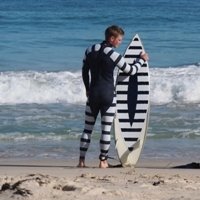 Friday, 19 July 2013
A Western Australian company has used pioneering research by leading University of WA shark experts to develop wetsuits designed to confuse sharks or render surfers invisible to the predators.
The world-first shark repellent suits are based on discoveries by Associate Professor Nathan Hart and Winthrop Professor Shaun Collin, from UWA's Oceans Institute and School of Animal Biology, about how predatory sharks see and detect prey. The suits use a specific combination of colours and patterns to deter the creatures.
One design - known as the 'cryptic' wetsuit - allows the wearer to effectively blend with background colours in the water, making it difficult for a shark to detect or focus on the wearer.
The other design - the 'warning' wetsuit - makes the user appear highly visible by using disruptive and high contrast banding patterns to make them appear totally unlike any normal prey, or even as an unpalatable or dangerous option. The designs also come in the form of stickers for the undersides of surfboards.
A UWA team led by Professors Collin and Hart - regarded as world authorities in the field of shark sensory systems - collaborated with biotechnology company Shark Attack Mitigation Systems to translate complex research data on the vision, neurology and behaviour of predatory sharks into an effective product.
SAMS founder and director Hamish Jolly, who initiated the project following a spate of fatal shark attacks along the WA coast, said that while the company could not claim the suits were a failsafe protection against shark attacks, results from initial testing of the wetsuits in the ocean with wild sharks had been 'extraordinary'.
"We believe they certainly can assist without necessitating any additional equipment or cost other than what is already being used," Mr Jolly said.
Professor Collin said he and fellow researchers were striving to understand shark behaviour and the role of different senses in the hope of protecting both humans and sharks.
"We believe that an understanding of the basic neurobiology of the sensory capabilities of sharks is essential to translating this knowledge into ways to help the public reduce the risk of shark attacks," he said.
He added that the integrated vision research which led to the suits' development would not have been possible without the financial assistance of the WA Government's State Innovation Vouchers Program, which funded the collaboration.
Testing of the suits will continue but in the meantime, SAMS has issued a license for use of the patented technology to wetsuit company Radiator , and expects the technology to be incorporated into a wide range of water sport products all over the world.
More information about the suits, the science behind them and the testing - including video footage featuring engagement with a 4m tiger shark - can be found at the SAMS website .
Media references
Winthrop Professor Shaun Collin (UWA Oceans Institute)  (+61 8)  6488 2632
Associate Professor Nathan S. Hart (UWA Oceans Institute)  (+61 8) 6488 3960
Hamish Jolly (Shark Mitigation Systems)  (+61) 1300 524 392
Michael Sinclair-Jones (UWA Public Affairs)  (+61 8)  6488 3229  /  (+61 4) 00 700 783
Tags
Channels

International — Media Statements — Research — University News