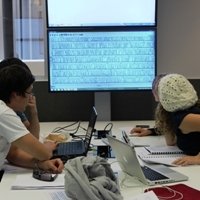 Tuesday, 4 June 2013
Second and third year pathology, microbiology, pharmacology and medicine students at The University of Western Australia will have their critical thinking and analytical skills sharply honed for an ever-changing work environment thanks to new e-learning suites opened today.The $6 million suites replace traditional teaching methods, giving students practical diagnostic experience and an environment that mimics the consultative nature of a working laboratory.
The suites replace the 'show and tell' teaching method once used to explain to students how to analyse cells.  Instead, students will sit in groups and analyse data on real patient blood samples.
They will work together to develop a diagnosis and treatment regime although in reality the patient will already be in treatment.  They will see at first-hand how their decisions could influence the outcome for patients.
UWA Vice-Chancellor, Professor Paul Johnson, opened the three new suites and refurbished wet laboratory in M Block at the Queen Elizabeth II Medical Centre.
The three suites comprise 29 collaborative learning desks which can accommodate groups of six students.  Custom-built and designed at UWA, the desks will be used by the School of Pathology and Laboratory Medicine and the School of Medicine and Pharmacology.
E-learning has also recently been adopted by UWA's School of Dentistry where cutting-edge technology is being used in dental training.
UWA dentistry students are among the first in Australia to follow in the footsteps of pilots and car manufacturers who have benefited from haptics technology used to train commercial and fighter pilots.
The students are using "Moog Simodont Dental Trainers" to learn to drill and manoeuvre instruments without potential harm to patients.
Media references
Brett Tizard (School Manager, Pathology and Laboratory Medicine)  (+61 8)  9346 3814
Michael Sinclair-Jones (UWA Public Affairs)  (+61 8)  6488 3229  /  (+61 4) 00 700 783
Tags
Channels

Events — Media Statements — Teaching and Learning — University News

Groups

Faculty of Health and Medical Sciences