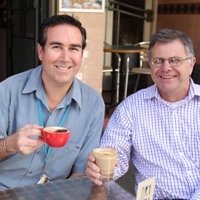 Thursday, 30 May 2013
Western Australian researchers hoping to demonstrate improved cardiovascular function among coffee lovers have found that drinking too much of the popular brew may actually be linked to worsening of the metabolic syndrome.
The collaborative study by researchers from The University of Western Australia's School of Plant Biology and the Institute of Agriculture in conjunction with the School of Medicine and Pharmacology and its affiliate the Western Australian Institute for Medical Research (WAIMR) into a compound found in coffee, known as Chlorogenic Acid (CGA), has been published in the Journal of Agricultural and Food Chemistry .
"Studies have shown that coffee consumption lowers the risk of developing type 2 diabetes," School of Medicine and Pharmacology Professor Kevin Croft said.  "This also included research on decaffeinated coffee, which suggested that the health benefits are from a compound in coffee apart from caffeine.
"With this in mind, we studied the effects of Polyphenols, or more specifically CGAs, which are very rich in coffee but also found in tea and some fruits including plums.  The CGAs were previously known for their health benefits, increasing insulin sensitivity and reducing blood pressure and body fat accumulation," he said.
"However, this study proved the opposite in dosages equivalent to five or six cups of coffee per day," co-author WAIMR Assistant Professor Vance Matthews said.
The researchers found that the equivalent dose of CGA fed to laboratory mice affected the utilisation of fat in the liver and caused abnormal retention of fat within cells.  The obese mice also had a tendency for a higher degree of glucose intolerance and increased insulin resistance.
It's not all bad news for coffee lovers, though.  According to the researchers it's still okay to drink moderate amounts.
"It seems that the health effects are dose-dependent.  A moderate intake of coffee, up to three to four cups a day still seems to decrease the risk of developing diseases such as cardiovascular disease and type 2 diabetes," Assistant Professor Matthews said.
The researchers also found that CGA does not prevent weight gain in obese laboratory mice fed a high-fat diet when used at higher doses.
Media references
Professor Kevin Croft (UWA School of Medicine and Pharmacology)  (+61 8)  9224 0275
Carolyn Monaghan (WAIMR)  (+61 8)  9224 0377
Janine MacDonald (UWA Public Affairs)  (+61 8)  6488 5563  /  (+61 4) 32 637 716
Tags
Channels

Media Statements — Research — University News

Groups

Science Matters — UWA Institute of Agriculture