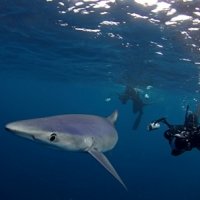 Saturday, 1 June 2013
We should be afraid FOR sharks, not OF them.
Marine conservation experts are hoping to change people's mindsets about sharks, with the inaugural Support Our Sharks film festival , Sharks Camera Action!
An afternoon of short marine research and conservation films from around the world and a live Q&A forum with shark experts will be presented in the Social Sciences Lecture Theatre on Wednesday 26 June.
Ryan Kempster , shark expert, PhD candidate, and founder of Support Our Sharks (SOS) , has organised the festival to encourage understanding of sharks and their relatives.
"Globally, sharks are being overfished at levels never before seen in human history," Ryan said. "Researchers are trying to identify the most at-risk species, so they can put in place effective conservation and management plans.
"We are keen for people to see sharks from a different perspective - to be afraid FOR them -- and their continuing existence -- not afraid OF them."
Sharks have an important role in the health of the oceans and shark experts such as those taking part in the forum, feel that sharks should be protected, rather than hunted.
The panel is: Winthrop Professor Shaun Collin and Assistant Professor Nathan Hart , both shark repellent experts; Professor Erika Techera , marine law expert; and Tim Nicol from the Conservation Council of WA.
If you are not convinced about the vulnerability and importance of sharks, come along to these stunning films from Beneath the Waves Film Festival from 1pm to 4.30pm.
Other sponsors are the Oceans Institute , UWA's neuroecology group, the Institute of Advanced Studies , SOS and Oceans Downunder.
The film festival is free but please book a place through website
Tags
Groups

UWA Forward