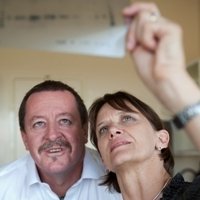 Friday, 12 April 2013
An announcement today of a licensing agreement with US drug company Sarepta Therapeutics to develop new treatments based on award-winning research into Duchenne Muscular Dystrophy (DMD) at The University of Western Australia may lead to the State's first genetic drug derived from WA research.
The discovery of a new genetic treatment approach for DMD - an incurable muscle-wasting disease that affects one in every 3500 boys worldwide - won the WA Innovator of the Year Award last November for Professors Steve Wilton and Sue Fletcher.
DMD is the most common muscle-wasting disorder in children and causes severe, progressive muscle loss and premature death.  The disease is associated with specific inborn errors in the dystrophin gene.  Without dystrophin, affected boys are usually confined to a wheelchair before age 12 and succumb to the disease by age 30.
The UWA team developed a technology that causes the gene translation machinery to skip the mutation, resulting in an improvement or slowing of the disease process to prolong and improve the quality of life for DMD patients.
Their pioneering work led to today's joint announcement by UWA's Office of Industry and Innovation (OII) and Sarepta Therapeutics for an exclusive worldwide licensing agreement for intellectual property rights to develop new exon-skipping DMD drugs.
This agreement - which expands Sarepta's earlier signing with UWA in 2008 to support development of several exon-skipping drugs, including Sarepta's lead product candidate eteplirsen - makes the University eligible to receive up to $7.1 million in upfront and development milestone payments, and a royalty on net sales of all approved medicines under the collaboration.  Additional financial terms were not disclosed.
"We are very encouraged by the recent progress and potential of eteplirsen as Sarepta Therapeutic's lead clinical program," OII Director Dr Andy Sierakowski said.  "We hope it may lead to treatment benefits for DMD patients worldwide."
"Our role is to assist UWA researchers achieve global impact through commercialising their technologies and this extended agreement is a clear demonstration of that mission.  If eteplirsen becomes a marketplace reality, it will be the first genetic drug based on intellectual property from research developed at UWA and in the State of Western Australia."
Sarepta Therapeutics President and CEO Chris Garabedian said the new agreement with UWA underscored the company's commitment to pursue treatments for all DMD patients who could benefit from its exon-skipping technology, even those with rare genetic mutations.
"We believe this collaboration allows us to apply our unique morpholino chemistry with UWA's ground-breaking research to develop potentially best-in-class drugs for this disease across the globe," Mr Garabedian said.
Professor Wilton said his team was very excited about the Sarepta Therapeutics agreement and the opportunity it offered to extend the therapeutic technology to all amenable DMD cases.
"Professor Fletcher and I are both passionate about making a difference and helping provide a treatment for boys who suffer from this terrible disease, and we sincerely hope that with Sarepta's expertise we can achieve that goal," Professor Wilton said.
Media references
Professor Steve Wilton (Australian Neuromuscular Research Institute (ANRI)  (+61 8)  9360 2305  /  (+61 8)  9346 3967
Dr Andy Sierakowski (UWA Office of Industry and Innovation)  (+61 8)  6488 7048
Michael Sinclair-Jones (UWA Public Affairs)  (+61 8)  6488 3229  /  (+61 4) 00 700 783
Tags
Channels

Media Statements — Research — University News

Groups

Faculty of Health and Medical Sciences