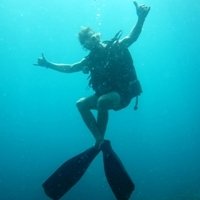 Wednesday, 20 March 2013
A young marine biologist with a passion for diving and film making has been singled out as a future leader of the underwater environment as the 2013 Our World-Underwater Australasian Rolex Scholar.
Stefan Andrews (24) completed a Bachelor of Science Honours degree at The University of Western Australia's Oceans Institute after spending last year documenting WA's vital seaweed habitat from Jurien Bay 250km north of Perth to Hamlin Bay 300km to the south with a UWA ARC Future Fellow, Research Associate Professor Thomas Wernberg.
Jayne Jenkins, Australasian Vice-President of Our World-Underwater Scholarship Society (OWUSS), said the selection panel felt that Stefan demonstrated strength of character and determination to excel in his role in representing the Scholarship Society and raising awareness of the marine environment.
"Competition is always tough; these candidates are the best of the best," Ms Jenkins said. "It is a very difficult decision for the selection panel to make.  Sadly we only have one scholarship to award, but for the winner, it will be the most amazing, experiential growth year of their lives."
Stefan's scholarship will take him to New York next month where he'll be introduced to global networks of scientists, explorers, film makers, photographers and other leading authorities at the very pinnacle of their career who will be able to assist in his career development and with future projects.
Stefan began his diving career in the cold waters off South Australia and has since spent time as a dive instructor and marine biologist working on the Great Barrier Reef and in Thailand, where he says the environmental concerns of the world really started to strike home.  It was then he decided to take the next step of honours and the opportunity to work with Professor Wernberg.
"Thomas Wernberg and Scott Bennett from UWA's School of Plant Biology were able to offer me so much field and diving work for my honours year and their passion about getting into the field was what attracted me.
"It was here I developed my focus on looking at seaweeds as being the rainforest of the ocean.  It's such an important foundation species often overlooked because of challenging conditions and the cool water you have to work in," Stefan said.
During his scholarship year Stefan plans to develop his career in underwater film making .  His blog can be followed throughout the year.
Media references
Stefan Andrews (+61 4) 28 285 926
Michael Sinclair-Jones (UWA Public Affairs)  (+61 8)  6488 3229  /  (+61 4) 00 700 783
Tags
Channels

Alumni — Awards and Prizes — International — Media Statements — Research — University News

Groups

Oceans Institute