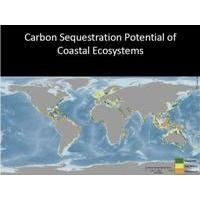 Friday, 22 February 2013
Understanding the important role of Australia's coastal and marine wetlands in storing atmospheric carbon dioxide will be the focus of a new $3 million collaborative research project headed by the CSIRO and eight tertiary institutions, including The University of Western Australia.
The project includes an investigation of WA's entire 22,000km coastline.
The CSIRO Marine and Coastal Biogeochemistry Carbon Cluster ( Coastal Carbon Cluster ) was launched today at the University of Technology Sydney by UTS Deputy Vice-Chancellor Professor Attila Brungs.
Over three years, the Coastal Carbon Cluster will create new models to collect information on "blue carbon", a concept name for the capture and storage of atmospheric carbon in the marine environment.  Coastal Carbon Cluster Co-Leader Winthrop Professor Carlos Duarte, from UWA, said the blue carbon project was well overdue.
"Australia's coast nurtures a large proportion of the world's seagrass and mangrove forests, but many of these have been damaged in the past," Professor Duarte said.
"Conserving and restoring our coastal habitats is a cost-effective way to mitigate climate change by rebuilding carbon sinks, while delivering valuable ecosystem services to society."
Researchers from UWA's Oceans Institute include Winthrop Professors Gary Kendrick, Charitha Pattiaratchi and Anya Waite, Professors Susana Agusti and Ryan Lowe, Associate Professor Kimberly VanNiel and Dr Pauline Grierson.  A team from Edith Cowan University, led by Paul Lavery, is also working jointly with UWA on the project.
CSIRO's Dr Andy Steven said the project would be Australia's largest-ever blue carbon accounting, mapping and measurement study.
"Understanding the importance of blue carbon to Australia's ecosystems and economy is of national significance, yet currently our knowledge and estimates of national coastal carbon stocks are limited," Dr Steven said.
"Protecting and restoring coastal marine environments to store atmospheric carbon can prove more economical than forest regrowth and can boost fishery and tourism industries."
Coastal Carbon Cluster Co-Leader Professor Peter Ralph, from UTS, said there were clear advantages in using coastal vegetation to reduce global greenhouse gas emissions.
"Seagrass, mangroves and saltmarsh capture carbon up to 100 times faster than forests and store it for thousands of years," Professor Ralph said.  "Coastal vegetation occupies only 2 per cent of the world's seabed area, but is responsible for half of the carbon transfer to ocean sediments."
The Coastal Carbon Cluster program has secured $3 million over three years from the CSIRO Wealth from Oceans flagship, with in-kind support from The University of Western Australia, University of Technology Sydney, University of Queensland, Southern Cross University, Edith Cowan University, Griffith University, University of New South Wales and the Australian Institute of Marine Science.
Media references
Winthrop Professor Carlos Duarte (Director, UWA Oceans Institute)  (+61 8)  6488 8123
Michael Sinclair-Jones (UWA Public Affairs)  (+61 8)  6488 3229  /  (+61 4) 00 700 783
Tags
Channels

Events — Media Statements — Research — University News

Groups

Oceans Institute — School of Biological Sciences — School of Earth and Environment