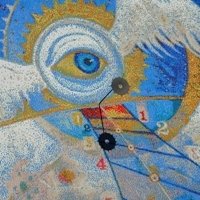 Tuesday, 5 February 2013
Academy Award-winning author and illustrator Shaun Tan, who is a graduate of The University of Western Australia, has created a strikingly colourful mosaic sundial to mark UWA's 2013 Centenary year.
The sundial, named Hours to Sunset, will be launched at the University's Alumni and Friends weekend which starts with the spectacular free LUMINOUSNight event from 7pm on Friday 8 February.
This weekend marks the start of the University's year-long Centenary celebrations.
Hours to Sunset, made of Venetian glass, is on the west-facing wall of The University Club of Western Australia.  Its colour and style were influenced by the medieval Book of Hours, an illuminated manuscript featuring gold and blue pigments.
"This combination of old European elements, mixed with my own experience of painting our coast, has produced a work that rhymes well with the sensibility of the University campus and its architecture," Mr Tan said.
In an age of digital clocks and smart-phone calendars, he relished working on a sundial that blends the ancient origin of time-keeping with humanity's basic relationship with sunlight and nature.
Hours to Sunset was commissioned as a gift to students past and present on the advice of the Director of UWA Extension, Susan Marie.
It will be launched on Saturday February 9 at 5.30pm.
People wanting to attend the Alumni and Friends Weekend can register here .
Media references
Susan Marie (Director, UWA Extension)  (+61 8)  6488 2634
Virginia Rowland (Senior Project Officer, UWA Centenary Celebrations)  (+61 8)  6488 4214
Michael Sinclair-Jones (UWA Public Affairs)  (+61 8)  6488 3229  /  (+61 4) 00 700 783
Tags
Channels

Arts and Culture — Events — Media Statements — University News

Groups

Arts — UWA Centenary